This Week's Cartoon: "More Things For Islamophobes to Worry About"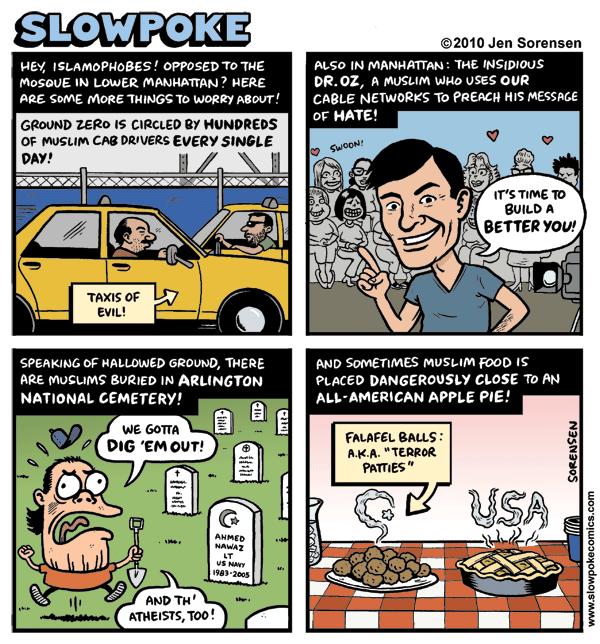 ---
Until now, I resisted doing a cartoon on the mosque controversy because, like many aspects of American politics these days, it seemed too stupid to address. But as the debate built to a crescendo last week, even I found myself getting annoyed at slogans like "STOP THE GROUND ZERO MEGA-MOSQUE." You do realize the protesters are calling it a "mega-mosque," don't you? And a "9/11 victory mosque?" Do a Google image search for "Ground Zero 2010" and you'll find all sorts of colorful signage. The problem, of course, is that these people are inventing their own reality. Does this sound like a 9/11 victory monument?:
The facility's design includes a 500-seat auditorium, theater, performing arts center, fitness center, swimming pool, basketball court, childcare area, bookstore, culinary school, art studio, food court, September 11th memorial, and prayer space that could accommodate 1,000–2,000 people…

The project's organizers state that it is intended to be "a platform for multi-faith dialogue. It will strive to promote inter-community peace, tolerance and understanding locally in New York City, nationally in America, and globally," and have stated that it is modeled on the noted Manhattan Jewish community and cultural center, the 92nd Street Y. The project's sponsors explained that the original name of the center was meant to invoke 8th–11th century Córdoba, which they call a model of peaceful coexistence between Muslims, Christians, and Jews.
Sounds like something we could use, actually. Emphasis above is mine.
Since some people have asked about the Dr. Oz panel in the cartoon, I will add here that yes, Dr. Oz is a practicing Muslim; he discusses his faith in this interview on The Root.
---