The
Sorensen

Monologues

HuffPost Politics filmed a great little video interview with Ann Telnaes, Signe Wilkinson, and me at the DNC. You can check it out here.
---
I've got a post up on Fusion collecting my sketches of scenes from the Democratic National Convention.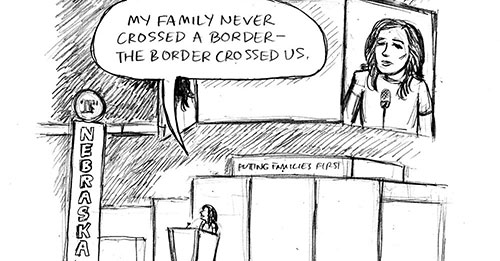 Also be sure to check out this great collection of women cartoonists offering advice to Hillary Clinton, which I had the pleasure of editing.
---
A couple things I've been up to lately: I edited this illustrated essay by Juana Medina about her Kafkaesque experience immigrating to the U.S. Moving here legally and permanently from another country isn't as easy as some people think.
I also had the pleasure of interviewing comedy writer Nell Scovell (credits: The Simpsons, The Muppets, Spy Magazine, among many others) for the Austin Chronicle's SXSW coverage. We had a nice chat about bullshit and women in comedy.
---
Here's a comic I edited by the talented Dylan Edwards about coming out as trans in the era before social media (or many examples of trans people in pop culture). Entitled "How I told my grandma I'm transgender," it shows why media representation is so important. Dylan was a pleasure to work with, and deserves more fame in the comics world.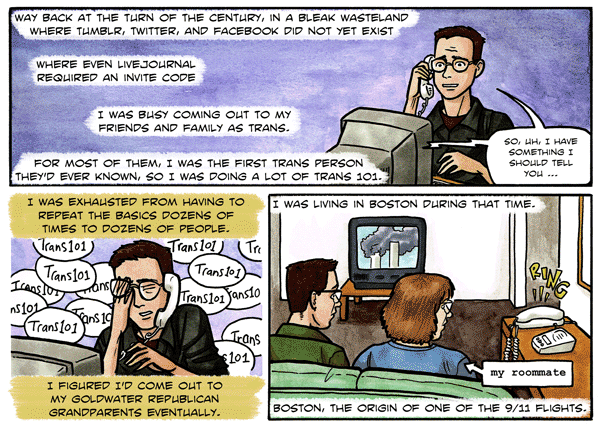 ---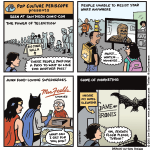 I had a great time at this year's Comic-Con, and this year had the honor of being a special guest. They even gave me an Inkpot Award, possibly the cutest trophy ever. Of course, it's hard not to be amused by a certain level of silliness and entertainment-industry promotion at Comic-Con, hence the light satire intended by this cartoon. Like SXSW, it's a convention that has grown beyond its original scope, with big-budget marketing efforts for TV shows and movies at every turn. But beneath that commercialized surface, there's still a lot of cool stuff and great people.
---

I'm honored to say I'm a special guest at Comic-Con this year. This means you can catch me on three (3!) panels if you're going to the convention (it's been sold out since forever). I have some awesome panel-mates! Here's my schedule:
Thursday, July 9 • 2:00pm – 3:00pm, Room 9
"Spotlight on Jen Sorensen" (probably the most intimate gathering of the three)
Herblock Prize-winning political cartoonist Jen Sorensen (Slowpoke), seen on Daily Kos and The Nib as well as in alternative newspapers around the country, will show her favorite cartoons and discuss her other job as comics editor for Fusion, a startup from ABC and Univision.
Friday, July 10 • 1:00pm – 2:00pm, Room 9
"Comic Strips in the Modern Era"
Everyone remembers reading their favorite comic strip on a Sunday morning and what a joy it was. Find out what comic strips are up to today with Lalo Alcaraz (La Cucaracha), Hilary Price (Rhymes with Orange), Jen Sorensen (editorial cartoonist), and moderator Andrew Farago (The Cartoon Art Museum).
Note: I will be signing at the National Cartoonists Society booth on Friday 7/10 from 3pm-5pm
Saturday, July 11 • 2:30pm – 3:30pm, Room 8
"Writing Engaging Non-Fiction Comics"
Nonfiction comics are a wide and blossoming field, with lots of exciting projects emerging all the time. The genre of nonfiction comics can include biographies of important historical figures, as in Peter Bagge's Woman Rebel: The Margaret Sanger Story; political cartooning, as in Jen Sorensen's short and long-form work for numerous periodicals or long-running web serials about the history of hip hop, as in Ed Piskor's Hip Hop Family Tree. Calvin Reid (senior news editor at Publishers Weekly) will find out what it is that drew them to work in nonfiction and how they make it interesting for their readers.
---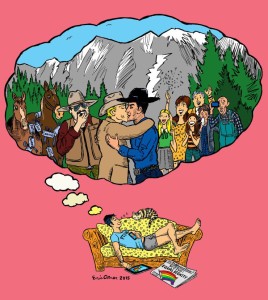 I put together a special roundup of comics and cartoons about the gay marriage ruling for Fusion, and I'm really happy with how it turned out. Many cartoonists enthusiastically went beyond the call of duty, including the legendary Howard Cruse, Hilary Price, and Eric Orner (whose work is shown here). Go check it out!
---
I was humbled to be included in this photo of a rare multi-generational gathering of alt-weekly cartoonists (click to enlarge):
Here's a nice shot of Lynda Barry and me laughing at the fact that my phone started taking a million pictures of us. Next in the sequence is me holding out my hand and saying "STOP!" (not shown).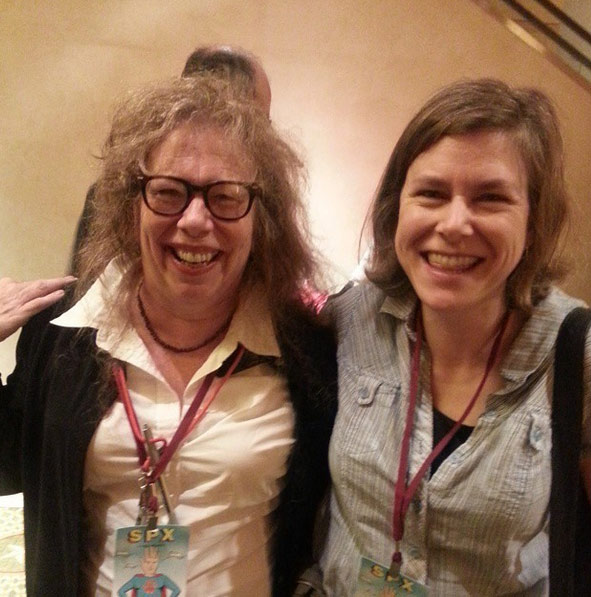 ---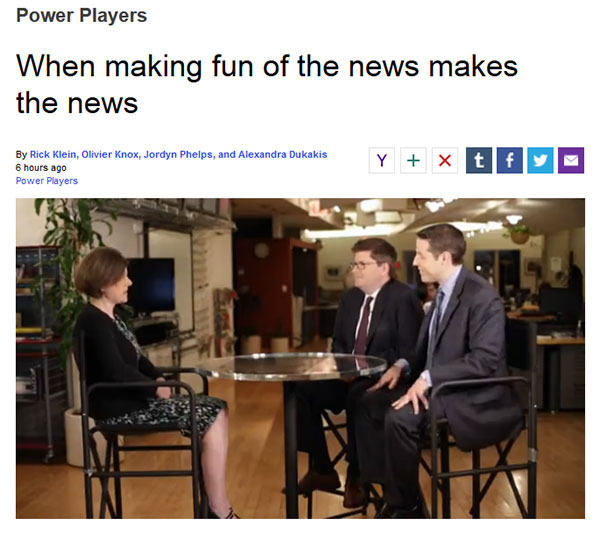 When I was in DC for the Herblock ceremony, I did a quick video interview with Rick Klein and Olivier Know at ABC News. The video just went up today as part of the "Power Players" series on Yahoo News (apparently I am now a "Power Player" — ha!).
I will say, this is one of the best interviews I've ever done, as the hosts were well-prepared, and the editing is excellent. They spliced in some great images to match the conversation, including one of Voodoo Donut in Portland while we discussed my "Snack Gentrification" cartoon. Coincidentally, I found myself trying artisanal pork rinds at a trendy new restaurant later that night.
Getting a TV makeover was also fun. A mere half hour before this was filmed, I was wandering the streets of DC in a deluge, and they somehow transformed me from a soggy she-beast into a news anchorwoman.
---
The Herblock Foundation has posted the video and transcript of my acceptance speech on their website. The whole thing went well, but for some reason the camera makes me look about twenty pounds heavier than I am. I assure you I have not been celebrating my Herblock win by gorging myself endlessly on honey hams and chocolate tortes, although a chocolate torte would taste pretty good right about now.
---
Well, I'm having a good year. I've been named a winner of the SPJ's Sigma Delta Chi Award, along with my colleague Angelo Lopez. Angelo is a talented cartoonist, and I encourage you to check out his work.
---
I recently appeared on Open Source with Leon Krauze to discuss America's extreme economic inequality. The show is on the Fusion Network, a new cable channel from ABC News and Univision.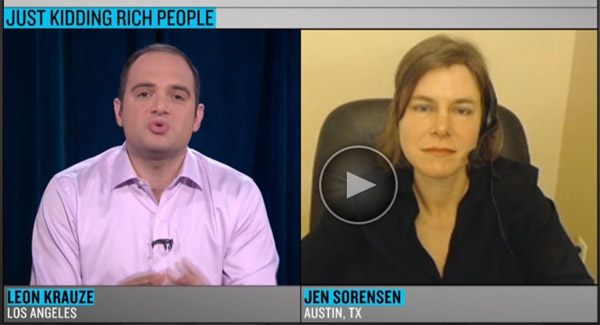 Political cartoonists are rarely interviewed on TV, which is strange when you consider how frequently opinion columnists or obscure academic authors make appearances as talking heads. Thanks to Fusion for having me as a guest.
---