My First Reubens Weekend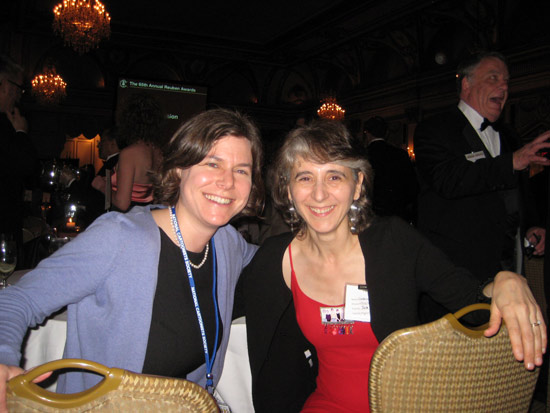 I recently joined the National Cartoonists Society and went to my first Reubens Award weekend, the annual gathering of professional doodlers from North America and points beyond. This year the event was in Boston at the Fairmont Copley Plaza, a hotel so fancy it makes the Vatican look like a Dollar Tree. That's me above with my friend Isabella Bannerman, one of the "Six Chix." Note the great expression on the gentleman behind us.
I don't even know where to begin recounting the weekend — I had so many fun conversations with friends old and new — but I can tell you that every now and then, something truly surreal would happen, such as finding Cathy Guisewite behind me in line in the ladies' room. (This now rivals my other Ladies' Room Brush With Fame with Dennis Kucinich's wife, who towered above her stall like a very beautiful giraffe.) I got to briefly meet Sergio Aragones and Garry Trudeau. One evening, I found myself eating dinner with the entire Marmaduke clan. I was heartened to hear that one of the Sons of Marmaduke reads my strip regularly in the Village Voice. On the other hand, I fear I committed a grave faux pas by referring to the matriarch of the Marmaduke Dynasty as Mrs. Marmaduke. She seemed perplexed, so I hastily explained that I often referred to my husband as Mr. Slowpoke. (I would say "Ruh-Roh!" here, but that's Scooby Doo. Speaking of which, I wonder if there's a blood feud between the House of Marmaduke and the House of Scooby.) Anyway, good times!
---