This Week's Cartoon: "The Color of Welfare"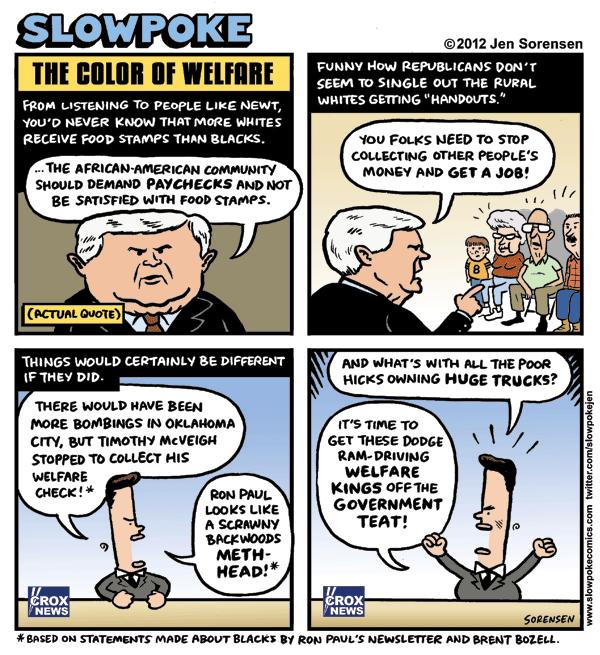 ---
You'd think that decades in politics would knock the racist claptrap out of someone like Newt Gingrich, but, well, this is the GOP we're talking about. Instead, he just substitutes polite-sounding phrases like "African-American community" and "demand paychecks" for "those lazy blacks." How does one go about demanding a paycheck, anyway? I'd like to be able to do that, and have one show up. That would be cool.
The dialogue in the third panel refers to Ron Paul's Paranoid Kook Reports, which contained the theory that the LA riots only came to a halt because everyone went to pick up welfare checks. And right-wing noise machine poopshoveler Brent Bozell said on Fox News that Obama looked like a "skinny ghetto crackhead." Rick Santorum has also made similar comments to Newt's.
To be clear, my point here was not to pick on poor whites, but to criticize the singling out of one group when poverty cuts across multiple demographics. For data on food stamp usage, I looked at this USDA report (big PDF, via the ThinkProgress article linked above; page 75 has the breakdown) and this, which documents disproportionate rural usage, largely by children.
---