Comic on Immigrant Activist Danilo Lopez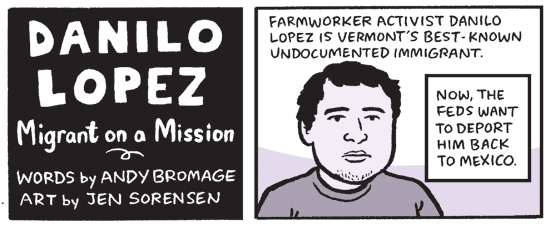 I've been meaning to share a one-page comic I drew recently for Vermont's Seven Days altweekly, which publishes a cool annual cartoon issue full of stories rendered in comic format. I teamed up with News Editor Andy Bromage to create this piece about a local activist for undocumented farm workers, Danilo Lopez, whom you could justifiably call the Cesar Chavez of Vermont.
Danilo was ordered to self-deport by July 6. Not long after the comic was published, U.S. Immigration and Customs Enforcement granted him a "stay of removal" that postpones his deportation for at least another year. While I doubt that the comic affected the ICE's decision, I'm right proud of it nonetheless.
---