If we talked about white poverty the way we talk about black poverty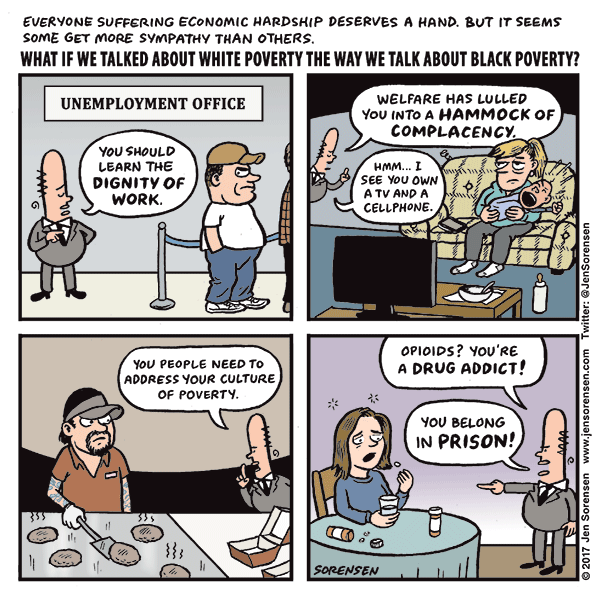 ---
To state the obvious, I am not saying that we shouldn't care about white poverty or that poor whites haven't had to endure their share of shaming from a punitive culture that uses wealth to determine the value of a human being (a source of condescension, it's important to note, that originates from the right and its cult of market fundamentalism).
That said, there's been a spate of sympathetic talk lately about the plight of working-class whites, expressing concern about the loss of economic opportunity in rural America and the rise of the opioid epidemic. A mythology has formed around the forgotten white man, and outrage has been manufactured — mostly by Fox and other conservative outlets — to blame the left for his struggles. This narrative has been so powerful that conventional wisdom spewers tend to forget that Trump's voter base was relatively affluent and did not in fact represent the working class. (Valorization of white, blue collar men as the epitome of American authenticity is nothing new, of course. See: countless advertising campaigns from the past several decades.)
Again, I have no intention of diminishing the problems of anyone in the throes of poverty; yet I can't help wonder where all this sympathy has been for black neighborhoods suffering from a lack of economic opportunity, or for the problems of addiction faced by communities of color. The condescending (and inaccurate) language used to describe black poverty is widespread among mainstream commentators on the right.
In response to this cartoon, a commenter on Daily Kos shared a link to this thought experiment by Anil Dash, imagining "if Asian Americans saw white Americans the way white Americans see black Americans." I hadn't seen it, but it's making a similar point.
---