Dog Whistles of Our Times: "Identity Politics"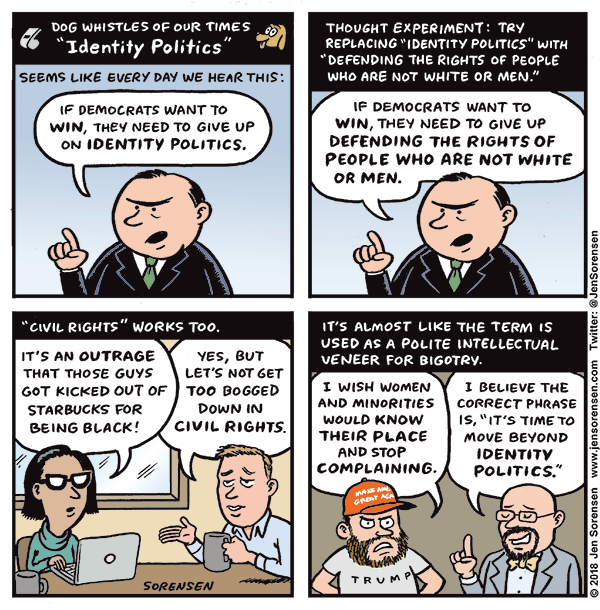 ---
This paragraph from Linda Burnham in the Guardian last year spells out the problem nicely:
It's never a good idea to enter willingly into a frame your opponent has constructed to entrap you. The term "identity politics" is part of a whole vocabulary including "thought police," "politically correct," and "liberal elites", whose main intention is to undermine the legitimacy of liberal and left politics. Uncritically adopting the "identity politics" language of the right is the equivalent of dropping our guard and waltzing on to their terrain. Master's tools, master's house, anyone? We need to recognise a toxic frame when we see one and refuse to be a party to its proliferation.
Once upon a time, "identity politics" was a phrase heard occasionally in the halls of academia (at least, for those of us who were social science majors), typically in discussion of nationalist movements or other phenomena outside of day-to-day US political debate. Now, thanks largely to right-wing media, it has become a noxious catchphrase that lumps together all social justice movements — the fight for civil rights, equality for women, same-sex marriage, immigrant rights, to name just a few — into a belittling abstraction that makes these great historical movements sound frivolous. The phrase has become so normalized, many progressives use it uncritically. We need to wake up and recognize it for what it has become: a sanitized shorthand for "those people" — a dog whistle. You want to talk about these issues? Be specific. Spell out what you mean. Are you referring to Black Lives Matter? Don't hide behind a sterile, human being-erasing euphemism.
---