Plastic Straw Man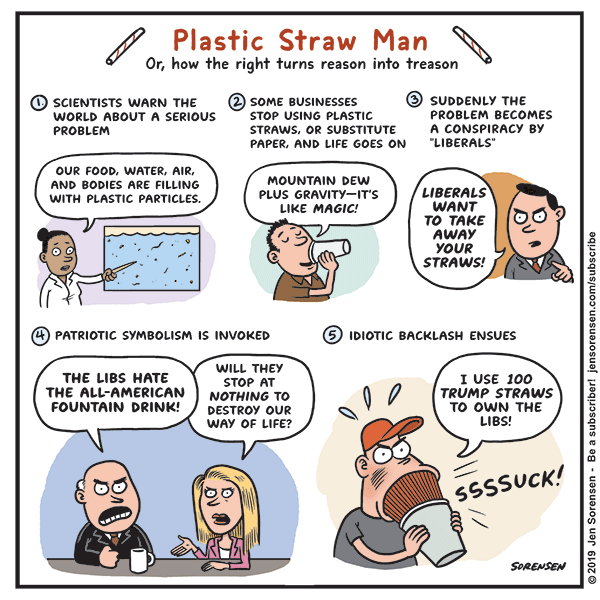 ---
I realize that straws are merely the tip of the plastic-berg, and that banning them is a small gesture in the grand scheme of things. However, if you've been reading The Guardian's series on the United States of Plastic, you probably aren't going to be a straw-hugger. (Straw huggers! I wish I'd worked that into the strip.) I am also aware of the fact that some people with disabilities need straws to drink, and I fully support efforts to consider their needs as we take steps to reduce single-use plastics.
Straws are just the latest example of the right seizing on a grave environmental issue to demonize "the liberals" through wild hyperbole. When scientists point out that industrial cattle farming is contributing to climate change, that becomes "the libs want to take away your hamburgers." In fact, governments, businesses, and individuals are trying to follow the recommendations of science that we drastically reduce plastic and meat use — and relabeling this attempt at responsibility as "liberal" just creates a conspiracy theory out of the only possible ways to respond to these crises. Saying that anyone "wants" to take away your straws is a false, alternate explanation of what is going on. I wish we could go on using straws without consequence!
Help sustain these comics — join the Sorensen Subscription Service!
---