Oddly Familiar Talking Points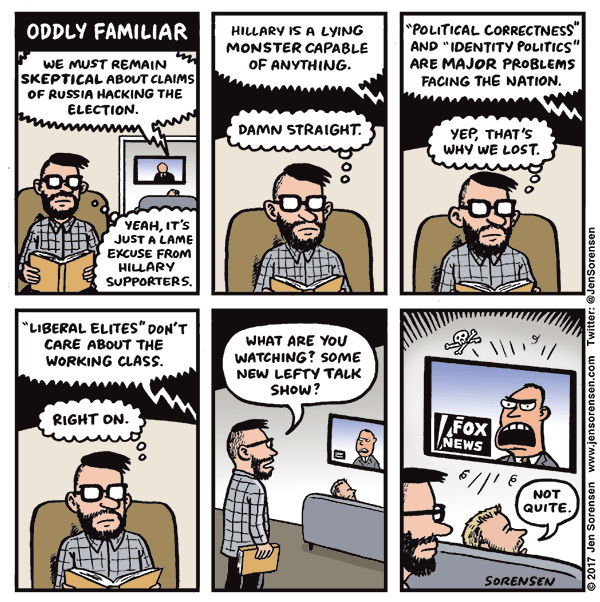 ---
Apologies for the late posting this week. I had to dig myself out of a post-holiday pileup of to-dos.
Let me start by saying I consider myself to be somewhat to the left of Bernie. I favor a Scandinavian-style social safety net — heck, I am Scandinavian. And I admire Elizabeth Warren more than just about anyone. So this comic is not coming from the perspective of a milquetoast centrist Democrat, or even a strong Hillary partisan, as I'm guessing some will assume in our world of fun political binaries. What concerns me is that I'm seeing fundamentally right-wing concepts being adopted by those who self-identify as lefties or progressives. You might say I'm criticizing the left from the left.
To address a few points raised in the cartoon: I shouldn't need to even spell this out, but as a gentle reminder, Russia is an authoritarian regime that crushes free speech, dissidents, LGBT rights, and now, apparently, my own health insurance. This didn't just happen to Hillary; it happened to all of us. It's pretty much the definition of what should be a non-partisan concern. Mountains of evidence exist for Putin's attempt to swing our election (and others), and to minimize the problem is nothing short of laughable. And yes, I do think the interference had a substantial impact.
Hillary has certainly frustrated me at times over the years, but I came to admire her intelligence and poise over the course of this election cycle. Her performance at the debates with Trump was nothing short of heroic. She also ran on the most progressive Democratic platform ever, but since policy has become almost completely divorced from politics, that doesn't get talked about much. I could go on, but as my husband says, this was not so much an election as an exorcism, the culmination of a decades-long smear campaign by the right.
The term "political correctness" has been the cornerstone of conservative efforts to transform the ideas of civil rights and equality into something frivolous and stupid. The right loves plucking silly examples from obscure, powerless people and blowing them up into huge "culture war" issues that supposedly threaten the nation. "PC" is an insult that plays into their hands.
Along these same lines, "liberal elites" — long a Fox News favorite — is designed to shift attention away from the actual economic elites hoovering up the world's wealth and resources, such as the Koch Brothers or Trump, and instead make one think of poodle-owning urbanites supposedly looking down their noses at everyone (while in reality voting to raise the minimum wage). It's a frame, not a fact, and hides a deep anti-intellectual agenda. By definition, I would say a liberal is someone who cares about the less fortunate. So a liberal "elite" would be a liberal with power. However, the term is thrown around as a pejorative to smear just about anyone — feminists, college student activists, etc. — rendering it meaningless, and an effective right-wing language hack that divides the left.
So don't fall for these con-job concepts! We progressives need to be strategic in our opposition, not Fox News Lefties.
---