The
Sorensen

Monologues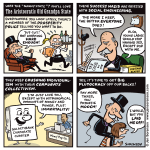 Continuing with our "classics for the holidays," here's a personal fave from 2012. As I wrote at the time:
I don't know about you, but I'm tired of hearing smug Republicans toot their success horns while nagging the rest of us to work harder.

It takes a lot of chutzpah to oppose anything that might help American workers get ahead — unions, a robust safety net, minimum wage hikes — and then blame those workers for not earning enough money to pay federal income taxes (never mind all the other taxes they do pay). You can't have it both ways! You can't upend people's lives through corporate takeovers and then call the downsized "irresponsible." You can't sow market chaos through deregulation and scoff at the small business owner who can't survive the downturn. The disconnect is astounding. But such is the power of ideology.
Unfortunately, Big Plutocracy has only gotten bigger since then.
A couple of housekeeping notes: A few people have mentioned that the Facebook share button isn't working anymore. I clearly need to do some site maintenance, which has become less of a priority since Google ads started paying crap and I decided to direct traffic to paying clients instead. Hopefully I will get a chance to make some updates over the holidays.
Secondly, sincere thanks to those of you who have joined my subscriber service. As time goes on, reader subscriptions will play an increasingly important role in sustaining the cartoon. So if the thought of getting each cartoon hot off the press, delivered to your inbox along with a smattering of commentary each Tuesday morning appeals to you, please consider joining.
---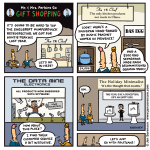 A classic for the holidays, as is my wont. This installment of Mr. and Mrs. P's shopping adventures was written after a trip to an upscale kitchenware store. As I wrote in 2011, "Even though I'm not a 1% chef, I do enjoy ogling things like 15-pound cast-iron skillets and knives bearing vaguely-Teutonic insignias."
The presents I would like to send to people this year are, unfortunately, not available in stores. I would like to send an assurance that the Affordable Care Act will still be around in a few years, or a Medicare for All coupon. I would like to wrap up democracy itself with a nice red white and blue ribbon, to give to everyone who has had their voting rights compromised. Alas, the best I can do is fancy soaps.
---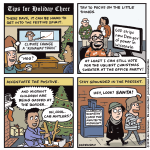 Okay, I suppose things got a little dark this week. I've been wanting to comment on the weirdness of experiencing all the usual holiday frivolity during these very abnormal times. Just the other day, there was news of greenhouse gas emissions accelerating like a "speeding freight train" on the same day Trump announced a plan to open up nine million acres of land reserved for sage grouse protection to oil exploration. And in a chilling display of authoritarianism, the Republican legislature in Wisconsin voted in the dead of night to strip away power from the newly-elected Democratic governor. While these stories made newspaper headlines, I don't entirely get the sense that Americans, as a whole, are deeply rattled. Bells continue to jingle and car antlers continue to sprout. Not that I begrudge people their reindeer fun. Indeed, it is possible to affix a plush red Rudolph nose to the grill of one's automobile and be concerned about the demise of democracy at the same time.
---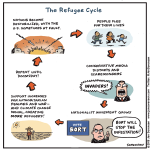 To be clear, my intention here is not to say that refugees necessarily lead to fascism. Rather, it's hyperbolic, inflammatory rhetoric about migrants that leads there. Without irresponsible right-wing media demonizing entire groups of people round the clock, I suspect the national conversation would look a bit different.
U.S. foreign policy has unfortunately played into the creation of some of these very refugees. With the Iraq War, we destabilized a whole region and opened up a power vacuum filled by terrorist movements. Then there's been decades of US involvement in Central America, also not unrelated to current migrants fleeing violence.
---