The
Sorensen

Monologues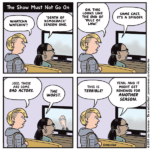 Truth be told, I don't find the impeachment hearings terribly compelling at this point, as we already know what we need to know. Mitch McConnell's kangaroo court mostly serves as a reminder of kangaroo courts past, from the Brett Kavanaugh "investigation" to the utter refusal to give Merrick Garland a hearing at all. But at the same time, we can't let ourselves become blasé about this insane spectacle unfolding in front of us. This is a show trial, a feature of the worst regimes in world history, and it should be shocking to see this happening in the United States.
Help sustain these comics — join the Sorensen Subscription Service!
---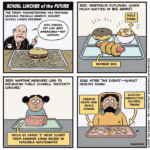 The Trump administration announced its planned rule change on Michelle Obama's birthday, which seems just gratuitously mean, but I suppose that's the point. Agriculture Secretary Sonny Purdue described the change as "common-sense flexibility" — "flexibility" that will allow kids to choose pizza, burgers, and French fries every day. This will have real consequences, as we see increasing numbers of kids develop Type 2 diabetes. 
---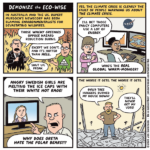 This cartoon relies heavily on this NY Times article. In short, Australians have been fed a bunch of disinformation about the fires that are ravaging the country. While controlled burns help, the weather has been so unusually hot and dry that the windows to conduct them safely are fewer and fewer. (Here's the Greens' statement rebutting the smear campaign against them, if you're curious.)
Not unlike a mass shooting leading to a spike in gun sales, we're seeing a perverse dynamic of climate catastrophe being used to worsen said catastrophe. 
Help sustain these comics — join the Sorensen Subscription Service!
---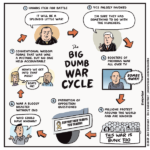 What worries me about our probable new war footing (aside from the mass death, etc.) is what happens domestically given our increasingly fact-free and lawless political environment. To say violence and abuses of power are likely is an understatement.
Help sustain these cartoons — join the Sorensen Subscription Service!
---