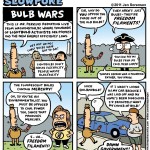 The silliness and hypocrisy of Republicans' lightbulb activism — especially their sudden concern about mercury in compact fluorescents after pooh-poohing efforts to limit mercury pollution for decades — was too much for me to resist. I should add here that it's not just CFLs that they're opposed to; low-energy incandescent bulbs are also available, and the energy law (passed under Bush) is intended to create a market for these by eliminating the cheaper, less-efficient competition.
While CFLs theoretically reduce mercury pollution by reducing the amount of coal power consumed, I have to admit I'm wary of the expectation that they'll be OK for the environment as long as people recycle them instead of dumping them in the garbage. "Just take them to Lowe's!" chirped a woman from the NRDC on a Colbert clip I watched recently. But honestly, how many Americans are going make the effort to do that? See the second panel of this cartoon for a clue. I suspect in 20 years we will have a "WTF were we thinking?" moment.
While Googling images of the tea party, I came across this photo of Sarah Palin supporters from the Christian Science Monitor.
Yes, these are the people fighting modern lightbulb technology and threatening to annihilate what's left of the economy over the debt ceiling.