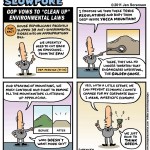 While the nation was distracted with debt ceiling shenanigans, House Republicans did something else that went largely and predictably ignored by much of the news media. They quietly slipped 39 anti-environmental riders, many of them eye-poppingly radical, into an appropriations bill. The riders would do things like: prevent the EPA from regulating greenhouse gases for one year, stop coal ash from being treated as hazardous waste, and block the enforcement of new fuel efficiency laws that automakers have actually agreed to. The money quote from Rep. Mike Simpson (R-ID): "Many of us think that the overregulation from E.P.A. is at the heart of our stalled economy." Oh yeah, that's it. Fortunately, many of these brilliant ideas won't make it through the Senate, but you never know, now that we live in a hostage-ocracy.
As I first read about this, it occurred to me that Republicans tend to view environmental protections themselves as a form of pollution. If the GOP fought actual pollution with the same vigor they display in fighting pollution laws, America would be clean enough to lick. Don't think about that too hard.
Oh, and on a somewhat-related note: it takes a lot to get me to LOL, but this item on TPM did it. Tea Partiers have swallowed a Glenn Beck-promoted conspiracy theory that the UN is going to take away their farms through a sustainability program called "Agenda 21." To quote Beck:
Some people now have begun questioning and standing up to what, on the surface, seems like a harmless initiative just to save the environment. But it is not… once they put their fangs into our communities, they'll suck all the blood out of it, and we will not be able to survive. Watch out.
(via Media Matters)
Follow Daily Kos Comics at http://comics.dailykos.com