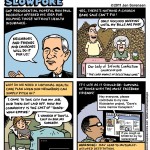 The more I think about Ron Paul's solution to the plight of the uninsured, the more baffled I become. So, churches are going to come to the rescue? That would seem to leave an awful lot of non-churchgoers to die, but maybe that's the point. And what about, as the Beatles put it, all the lonely people? These same politicians calling for communities to pitch in together are the ones pushing the myth of the radically-atomized individual. They are the party of American alienation: inhuman-scale corporate bureaucracies, big-box stores, unchecked sprawl, barricaded McMansions, and oversized vehicles with outside-world-avoiding names like "Enclave." (I generalize, but only slightly.) These are the people who crush attempts at fostering community through urban planning and the creation of public space. For these ideologues to lecture anyone about neighborliness takes a lot of chutzpah.
Not even Ron Paul's muffin-based health care plan could help his former campaign manager who died with $400,000 in medical bills. He was reportedly ineligible for health insurance due to a pre-existing condition. (For an eloquent statement on this, and general Republican cruelty regarding health care, I recommend this Daily Kos diary).
A note about the Kickstarter joke in the fourth panel: I had a nagging feeling that I'd seen a tweet about Kickstarter-funded health care somewhere, but a rather lengthy search turned up nothing. In any case, I apologize if I'm not the first person to think of that.
Follow Daily Kos Comics at http://comics.dailykos.com