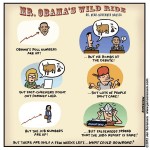 The "one weird trick discovered by a mom" meme has persisted for a while now in the illustrious world of web ads. And it's not just moms — all sorts of ordinary folks are coming up with strange tips and tricks for our collective benefit. Just a few weeks ago, I spotted a rather paranoid ad that read: "47yo patriot discovers 'weird' trick to slash power bill & end Obama's power monopoly." (I've heard Obama accused of many things, but being an electricity cartel kingpin is a new one.)
I wonder how this trend came to be. Was there some marketing study on the clickability of different phrases, and "weird trick" came out on top? Especially if the weird trick came from moms, dads, patriots, and other salt-of-the-earth folks? The implicit rejection of professional expertise here frankly says a lot about our culture. Don't need no fancypants scientist telling us how to lose our flab!
In 2011, the Washington Post reported on a Federal Trade Commission investigation of the "tiny belly" ads; they're the front end of a highly profitable scheme involving a large number of dubious dietary supplement companies. The fact that anyone is seduced into giving their credit card numbers to these people boggles the mind.