The
Sorensen

Monologues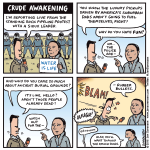 I may have taken artistic license by showing a mainstream-ish TV news reporter here, as it seems this very important story is being largely ignored. In case you haven't been following, a recent college grad had her arm mutilated by what many think was a concussion grenade; police sprayed people with hoses in the subfreezing night, risking deadly hypothermia; another woman had her retina severed. Journalists are facing arrest and rubber bullets. The camp is facing evacuation on December 5, a situation which threatens to become violent. It's imperative that Obama step in; this is not a time for overcautiousness. The stakes here are enormous. It's not only the Standing Rock Sioux who are imperiled; the world cannot afford this pipeline.
---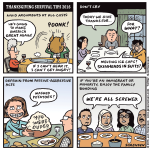 I appreciated the notes from people eager for an election rant. I've been busy lately and am still gathering my thoughts (I have a lot of them). At some point, I'm sure I'll write something. In the meantime, enjoy those mashed potatoes.
---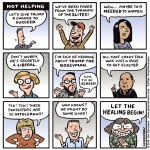 ---
---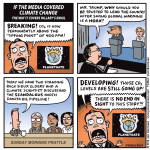 As many have noted, not one question about climate change was asked by the moderators of the recent presidential debates, despite our passing a major climate milestone in September.
A fairly astonishing study of network news broadcasts in 2016 showed no (!) climate change coverage — and relatively little policy coverage, for that matter — yet ample reporting on Hillary Clinton's email.
You know what's "extremely careless" (to borrow a phrase from James Comey)? Ignoring the most important issue in the world.
---