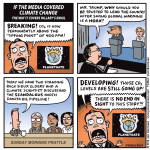 As many have noted, not one question about climate change was asked by the moderators of the recent presidential debates, despite our passing a major climate milestone in September.
A fairly astonishing study of network news broadcasts in 2016 showed no (!) climate change coverage — and relatively little policy coverage, for that matter — yet ample reporting on Hillary Clinton's email.
You know what's "extremely careless" (to borrow a phrase from James Comey)? Ignoring the most important issue in the world.