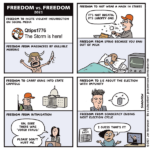 No concept has been more twisted and abused than the concept of "freedom" in the hands of opportunistic Republicans and libertarian nutballs. Speaking of which, yes, that's Rand Paul in the fourth panel. He came out looking like Eraserhead, which I am more than okay with. 
If you are able, please consider joining the Sorensen Subscription Service!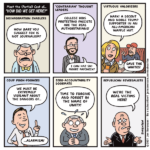 We're all paying the price now for giving unethical media outlets a pass, granting them legitimacy they never deserved, filling our public discourse with hate speech and dangerous conspiracy theories. The Republican party has grown ever more radical since the '90s, yet rather than report this objectively, newspapers put forth a safer, more palatable narrative of "polarization." Even as the GOP dismantled the Post Office, lied about the election, and tried to change the results, we were told to "relax." And here we are.