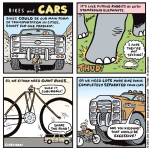 I've long been meaning to do a strip about the incompatibility of bikes and cars, and Earth Day week seemed as good a time as any. Besides, it was either this or making fun of the clown car that is the field of Republican presidential candidates, and I'm not quite up for that yet.
I dream of a dedicated bike path between me and the Post Office. I would do everything by bike if it didn't involve competing with 5,000-pound missiles. Let's not even get into what those missile operators are doing while they're supposed to be watching the road. A friend told me he saw someone crocheting on the highway during stop-and-go traffic the other day.
My truck grille-drawing skills seem to have improved since I moved to Texas. Clearly there's some R. Crumb influence creeping in here too. I named the truck in the last panel a Ford Glacier because we're always naming giant vehicles after things we're destroying (See also: the Tundra).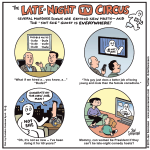 In the past year, we've seen a changing of the guard (or planned change) on The Tonight Show, NBC's Late Night, The Late Show with David Letterman, The Late Late Show with Craig Ferguson, The Colbert Report, and The Daily Show. That's six major nighttime TV shows, exactly zero of which have chosen a woman as replacement host. (Yes, I am aware of Samantha Bee getting a show on TBS. I'm talking about the heirs to longstanding franchises here.)
Most people seem to just nod their heads and accept this without realizing how utterly weird it is. Women comprise over half the population. There are lots of female comedians. Yet the entertainment industry clearly believes that America is not ready for a woman in such a role. Don't get me started on the "not enough ladies in the pipeline" excuse — I'm reasonably certain that if a woman had Jimmy Fallon's standup abilities, she'd still be doing open mics at the Crab Shack instead of pulling down $12 million a year like Fallon.
As a female-type person who deals in political humor, I can't help but take this stuff personally. To me, it feels like these are impossible biases that we'll never overcome. It makes me wonder whether this country is capable of electing a female president. My guess, I'm sorry to say, is that we're not.
On a lighter note, this would be my first Family Circus parody, which was fun to draw. I don't think "Jeffy," who now draws the strip, will mind — he bought me beers once.