The
Sorensen

Monologues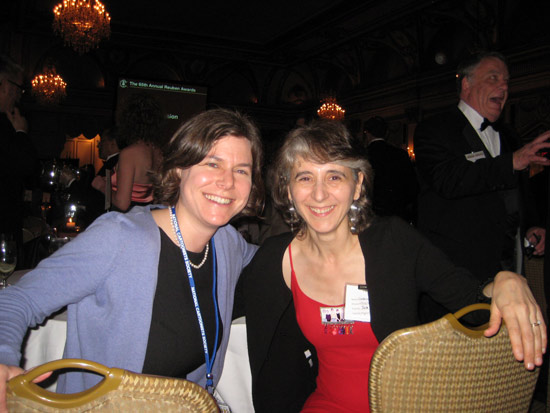 I recently joined the National Cartoonists Society and went to my first Reubens Award weekend, the annual gathering of professional doodlers from North America and points beyond. This year the event was in Boston at the Fairmont Copley Plaza, a hotel so fancy it makes the Vatican look like a Dollar Tree. That's me above with my friend Isabella Bannerman, one of the "Six Chix." Note the great expression on the gentleman behind us.
I don't even know where to begin recounting the weekend — I had so many fun conversations with friends old and new — but I can tell you that every now and then, something truly surreal would happen, such as finding Cathy Guisewite behind me in line in the ladies' room. (This now rivals my other Ladies' Room Brush With Fame with Dennis Kucinich's wife, who towered above her stall like a very beautiful giraffe.) I got to briefly meet Sergio Aragones and Garry Trudeau. One evening, I found myself eating dinner with the entire Marmaduke clan. I was heartened to hear that one of the Sons of Marmaduke reads my strip regularly in the Village Voice. On the other hand, I fear I committed a grave faux pas by referring to the matriarch of the Marmaduke Dynasty as Mrs. Marmaduke. She seemed perplexed, so I hastily explained that I often referred to my husband as Mr. Slowpoke. (I would say "Ruh-Roh!" here, but that's Scooby Doo. Speaking of which, I wonder if there's a blood feud between the House of Marmaduke and the House of Scooby.) Anyway, good times!
---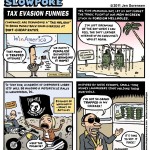 I don't have as much time to write about this under-the-radar issue as I'd like, but you can bone up over at the Wonk Room. For further reading, there's also this WaPo article and Sunlight Foundation piece.
To its credit, the Obama administration opposes the tax holiday, which was tried under the Bush administration with unimpressive job-creation results (let's just say it ain't the WPA). And it is a holiday, with rates dropping from 35% to around 5%. Would that we self-employed mortals had lobbyists fighting for such a sweet deal. TAX HOLIDAY FOR CARTOONISTS: BRING THE MONEY BACK TO THE DRAWING BOARD!
---
I drew this month's "Adventures in Feministory" comic in the back of the latest issue of Bitch, out now. I got to interview the great humorist writer Cynthia Heimel, author of "Sex Tips For Girls" and long-running columns in the Village Voice and Playboy. Heimel was one of my early influences, so this was, like, the coolest project ever. Print-only, so look on newsstands if you don't subscribe.
---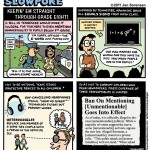 I'm linking to the comic on Daily Kos this week — today was its debut. I heartily encourage you, esteemed reader, to follow Daily Kos Comics, and even better, join the site and post comments!
For more on the "Don't Say Gay" bill, this editorial opposing it in the Knoxville News Sentinel is worth a read. It makes a nice point about how that newspaper would not be allowed in schools because it runs Doonesbury, which has a gay character. (Not to mention the newspaper said the word "gay!")
---
Meant to post this earlier. The Washington Post's "Comic Riffs" blog interviewed me about the process of guest-drawing Hilary Price's "Rhymes With Orange" — specifically, what it's like to go from doing an alternative political strip to a daily gag cartoon.
---
It's been a remarkably not-boring week here at Slowpoke HQ. Today I can officially announce that Slowpoke will be joining the comics roster at Daily Kos, alongside my colleagues Tom Tomorrow and Matt Bors. I've been hoping something like this would happen for a long time. For years, we cartoonists have watched in dismay as the only humor content progressive blogs seemed interested in was embedded video clips from the Daily Show and Colbert. Both shows are great, of course, but they were starting to feel a bit like Starbucks. Everywhere you went, there they were! Hats off to Markos (and comics coordinator Tom Tomorrow) for founding a great new home online for alternative political cartoons.
---
Not to imply fame by association or anything, but I'm interviewed in this new book about the intersection of politics and art, along with Pete Seeger, Yoko Ono, and the late Howard Zinn. I haven't actually seen it yet, and lord knows what I actually said over the fabulous lunch the author Richard Klin and his photographer wife Lily Prince bought for me at Brasserie Les Halles on Park Avenue in Manhattan. I think there's also a photo of me at the Forbidden Planet comic shop. The book sounds like a fascinating read, and I look forward to checking it out.
---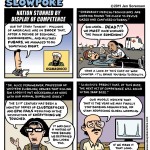 The killing of Bin Laden after ten years of bloody bungling made me think of  a conversation I had with a housemate of mine right after 9/11 — it may have been the night of the attacks. We were talking about what the U.S. should do. I said it would be cool of us to not respond dramatically; that instead, we should send in special teams to take down the perpetrators one by one. There would be no televised bombings to invite cycles of retribution — just quiet ninja-like justice. My housemate, a right-leaning Navy vet, favored more of a "wipe-Afghanistan-off-the-map" approach. Well, we know how that went.
I find myself  giving my cartoons Onion-esque titles lately. Not that they have a monopoly on fake newspaper headlines, but I don't want to overdo it. With this one, it felt necessary.
---

My week as guest cartoonist for Hilary Price's "Rhymes With Orange" has begun! I've been a fan for years, and am honored to be entrusted with the strip. It's one of the smarter ones you'll find on the comics page these days. Check your daily newspaper or read it at the official RWO website.
---
As I mentioned earlier, I had another travel piece in The Oregonian. It's mostly about skiing, but also contains other details, such as a naked posterior. You'll just have to read to find out. The article is accompanied by what I believe is my first purely-digital illustration, a send-up of the old "Endless Summer" movie poster.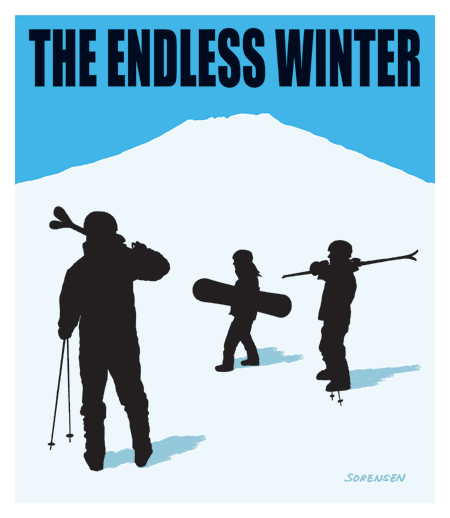 This was a fun project. I had Mr. Slowpoke don ski gear and stand in the backyard (in warm spring weather, of course) while I photographed him from different angles. After bringing the photos into Photoshop, I traced the figure outlines using my Wacom tablet, turning one of them into a female snowboarder. Added some shadows and the outline of Mt. Bachelor with the tablet, and voila!
After I'd started work on this, I discovered that the Warren Miller movie "Endless Winter" had a poster with a similar concept, which freaked me out for a moment, but it looks pretty different, and "Endless Summer" poster parodies are all over the internet. So I say it's fair game.
---
Some freelance projects I've been working on will be bearing fruit in the week ahead. On Sunday, I'll have another travel article in The Oregonian — not a comic this time, but a prose piece illustrated by me. And starting Monday, you'll be able to read a week of Hilary Price's "Rhymes With Orange" cartoons that I wrote and drew as a guest cartoonist so that Hilary could take a much-deserved vacation. I'll be linking to these in the days ahead. But be on the lookout if you subscribe to the Oregonian, or a newspaper that carries Rhymes With Orange!
---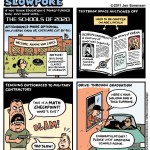 There was a brief moment last week, I think, when people were talking about public schools and the Wisconsin recalls. But that's all kind of a hazy memory now. The news about bin Laden broke as I was past the point of no return, deadline-wise. I mean, I could have whipped out a totally badass eagle about to rip Osama to shreds, but that's not how we roll at the House of  Slowpoke. Through sheer coincidence, however, I did manage to draw a military-type guy shooting a kid in the head. Not the best timing. Sorry about that.
---