Travel Article and Illo
As I mentioned earlier, I had another travel piece in The Oregonian. It's mostly about skiing, but also contains other details, such as a naked posterior. You'll just have to read to find out. The article is accompanied by what I believe is my first purely-digital illustration, a send-up of the old "Endless Summer" movie poster.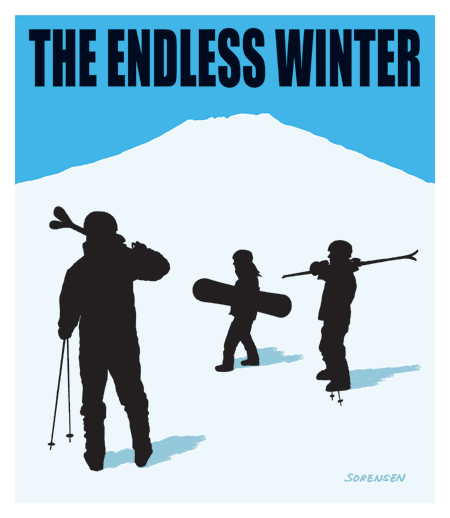 This was a fun project. I had Mr. Slowpoke don ski gear and stand in the backyard (in warm spring weather, of course) while I photographed him from different angles. After bringing the photos into Photoshop, I traced the figure outlines using my Wacom tablet, turning one of them into a female snowboarder. Added some shadows and the outline of Mt. Bachelor with the tablet, and voila!
After I'd started work on this, I discovered that the Warren Miller movie "Endless Winter" had a poster with a similar concept, which freaked me out for a moment, but it looks pretty different, and "Endless Summer" poster parodies are all over the internet. So I say it's fair game.
---