The
Sorensen

Monologues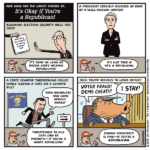 Back in the early aughts, the term "IOKIYAR" — It's OK If You're A Republican — was thrown around a bit in progressive quarters online, but I rarely see it anymore. IOKIYAR referred to the double standard by which Democrats and Republicans are judged in the media and the court of public opinion. In short, Republicans can simply get away with stuff that Dems can't. Consider it a "boys will be boys" approach to politics (the dynamic is, in fact, heavily gendered). Repubs gonna Repub. What are you gonna do? God forbid Hillary Clinton risk national security with a private email server. But Mitch McConnell blocking cybersecurity bills to prevent election hacking in 2020? Whatevs.
For more on the election security issue, this Vox article provides a summary. If you missed E. Jean Carroll's sexual assault allegation against Trump (corroborated by two other journalists), that's here. And the video clip of Oregon State Senator Brian Boquist threatening police is here. I didn't have enough space to mention right-wing militias shutting down the Oregon Capitol with violent threats, but that happened too. IOKIYAROWWG! (It's OK if You're a Republican — or a Wingnut With Guns!)
Help sustain these comics — join the Sorensen Subscription Service!
---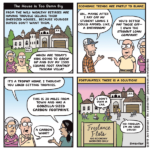 This was inspired by a Wall Street Journal article that was published in March, but for some reason went viral over the weekend. The article specifically discusses multi-million dollar dream homes in the Sunbelt that aren't selling:
For their retirement in a suburb of Asheville, N.C., Ben and Valentina Bethell spent about $3.5 million in 2009 to build their dream home: a roughly 7,500-square-foot, European-style house with a commanding view of the Blue Ridge Mountains.

The Bethells said they love the home but it now feels too big, especially since their adult son visits only about once a year.
"It now feels too big." WHO COULD HAVE KNOWN? Meanwhile, an entire generation stuck with student loan debt, capricious contract work, and sky-high real estate prices, can't afford to buy at all. And the minimum wage remains $7.25/hr, where it was last set a decade ago.
Help sustain these comics — join the Sorensen Subscription Service!
---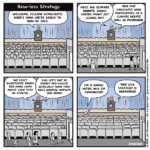 To be clear, I'm talking about the party leadership here and not the candidates themselves, many of whom are doing a good job of articulating a progressive vision. Last week we learned that Washington Gov. Jay Inslee had requested a debate devoted to the issue of climate change. The DNC said no, with the bizarre excuse that a president must be able to "multitask" (with a focused debate apparently being an example of not multitasking). To make matters worse, the DNC threatened to punish candidates who did engage in such a debate. According to Inslee, "they explained that if we participated in anyone else's climate debate, we will not be invited to future debates. This is deeply disappointing."
I can see the argument that many Americans have been so deluged with BS from right-wing media about the climate crisis that there is some risk of alienating those voters, but I don't think we're going to move forward in any meaningful way by kowtowing to disinformation and self-censoring; that's a short-sighted approach. The DNC's plan to punish candidates who do participate in a climate debate is just beyond stupid. I thought some of the animus directed at the DNC in 2016 was a bit conspiratorial and overblown, but now they're practically begging the party faithful to loathe them.
My motivation here is not to create a destructive circular firing squad, but to criticize these bad ideas in the hope that the leadership will improve. It seems some strategists are only capable of perceiving the risk of alienating hypothetical swing voters, but ignore the great risk of alienating the base. You don't win elections with milquetoast waffling. And if the planet is to survive, we're going to have to talk about it.
Help sustain these comics — join the Sorensen Subscription Service!
---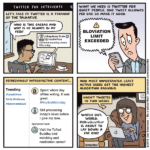 To my Twitter friends who tweet a lot: I'm not talking about you! I mean, not really. What inspired this cartoon is this tendency for Twitter to constantly show me tweets by certain people I don't follow (through retweets and trending topics), while almost never showing tweets from less-active people I actually do follow. Generally speaking, I find the quiet folks in the latter group far more interesting than the first, which tends to be dominated by mediocre media people. Oftentimes the humans I find the most fascinating — like Alison Bechdel — barely tweet at all. I realize I can manage what I see through the mute button and lists, but the fact remains that Twitter algorithms rely on engagements, which create a self-reinforcing cycle that elevates high-volume opinion-spewers. (Implicit bias also plays a role in who gets retweeted, as well as a certain degree of NY-DC media insularity.)
Twitter is, unfortunately, the space where professional visibility happens nowadays. I can't change that, but at least I can fantasize about a different kind of public commons where quiet people RULE.
Help sustain these comics — join the Sorensen Subscription Service!
---