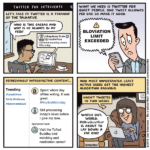 To my Twitter friends who tweet a lot: I'm not talking about you! I mean, not really. What inspired this cartoon is this tendency for Twitter to constantly show me tweets by certain people I don't follow (through retweets and trending topics), while almost never showing tweets from less-active people I actually do follow. Generally speaking, I find the quiet folks in the latter group far more interesting than the first, which tends to be dominated by mediocre media people. Oftentimes the humans I find the most fascinating — like Alison Bechdel — barely tweet at all. I realize I can manage what I see through the mute button and lists, but the fact remains that Twitter algorithms rely on engagements, which create a self-reinforcing cycle that elevates high-volume opinion-spewers. (Implicit bias also plays a role in who gets retweeted, as well as a certain degree of NY-DC media insularity.)
Twitter is, unfortunately, the space where professional visibility happens nowadays. I can't change that, but at least I can fantasize about a different kind of public commons where quiet people RULE.
Help sustain these comics — join the Sorensen Subscription Service!