The
Sorensen

Monologues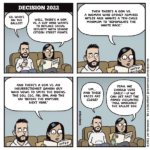 This pretty much sums up how I feel about the midterms. I can't believe so many contests are so close. Perhaps the most depressing one is the Ohio Senate race in which far-right extremist JD Vance — who has stated that the sexual revolution made it easier for women to leave violent marriages, and that this is bad somehow — has a very good shot at winning. Republican candidates can say just about anything these days, and it doesn't matter. The old norms are gone; actual policy has become irrelevant. 
In case you haven't heard about the guys in tactical gear guarding a ballot drop box in Mesa, AZ, you can read more here.
Support these comics by joining the Sorensen Subscription Service! Also available on Patreon.
---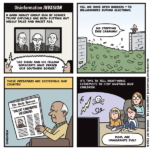 As this excellent column by Will Bunch explains, the organization responsible for these ads that are running during baseball playoff games on Fox Sports is a shadowy dark money group called "Citizens for Sanity" that is at least partly composed of former Trump administration officials with ties to notorious immigrant-basher Stephen Miller. This dangerously dishonest and inflammatory propaganda is simply incompatible with democracy, and it's likely not a coincidence that it was allowed on a Rupert Murdoch-owned network. Having just finished Ken Burns' epic documentary about US attitudes toward Jewish and other immigrants during the Holocaust, it's especially harrowing to see some of the same ugly rhetoric resurfacing.
Support these comics by joining the Sorensen Subscription Service! Also on Patreon.
---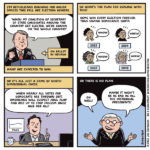 The Washington Post recently analyzed GOP candidates for the House, Senate, and key statewide offices, and found that over half — 299 out of 569 — have either challenged or refused to accept Biden's victory in 2020. Of these, 173 are running for safe seats that they can expect to win. 

According to TPM, more than half of U.S. states, 27 to be exact, have election deniers running for positions that would give them some degree of control control over voting. 
I'm not actually sure what the best plan to stop this madness would be, but I do think good politicians need to be talking about this a LOT more than they are. We also desperately need greater moral clarity from political media. 
Support these comics by joining the Sorensen Subscription Service! Also on Patreon.
---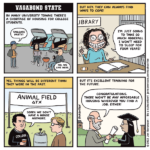 I've seen various reports lately about universities not having enough housing for students, with some being forced into homelessness, sleeping in their cars, etc. It's apparently a global problem — I just had a conversation with a woman in the Netherlands who was telling me about the plight of students trying to attend university in the Hague. As someone who spent four years living in university housing, this is almost imaginable to me. College is hard enough without worrying about having a roof over your head.
Join the Sorensen Subscription Service! On Patreon at jensorensen 
---