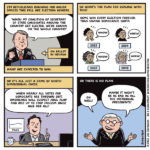 The Washington Post recently analyzed GOP candidates for the House, Senate, and key statewide offices, and found that over half — 299 out of 569 — have either challenged or refused to accept Biden's victory in 2020. Of these, 173 are running for safe seats that they can expect to win. 

According to TPM, more than half of U.S. states, 27 to be exact, have election deniers running for positions that would give them some degree of control control over voting. 
I'm not actually sure what the best plan to stop this madness would be, but I do think good politicians need to be talking about this a LOT more than they are. We also desperately need greater moral clarity from political media. 
Support these comics by joining the Sorensen Subscription Service! Also on Patreon.