Go check out this piece I edited for Fusion, a comic essay by Adam Bessie and Marc Parenteau that makes a compelling case for letting people use medical marijuana to ease their suffering.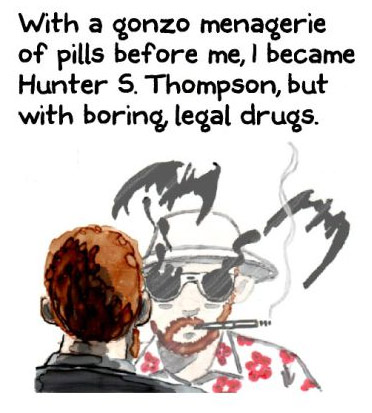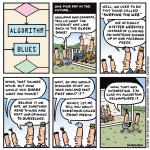 I click on items in my Facebook feed as much as the next person, but I'm also a print subscriber to the New York Times, and I love finding articles I never would have come across any other way. As we are increasingly served information based on personal data, it seems a narrowness of range is inevitable. Reality bubbles get reinforced, and news that is important but not-so-sharable gets lost in the shuffle.
Of course, I'm hoping the algorithm gods smile favorably upon this comic.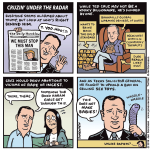 This Bloomberg profile of Ted Cruz's biggest backer, hedge fund billionaire Robert Mercer, is so chock full of delicious details, I implore you to read the whole thing. For example, more on those owls:
Mercer has dubbed his house the Owl's Nest. Owls seem to be something of a familiar for Mercer. He's commissioned a succession of yachts, all called Sea Owl, the latest of which stretches to 203 feet, with a pirate-themed playroom for the grandkids and a chandelier of Venetian glass. At least one Sea Owl was fitted with a medical center and video links, so a stroke at sea, for instance, could be diagnosed and treated remotely by a former White House physician ashore…

At the Owl's Nest, visitors pass through pillars crowned by a pair of owl statues, their wings outstretched as if taking flight. People who've been inside describe a pistol range, a series of secret passages, and an octagonal tower holding a two-story library.
Among Mercer's other financial beneficiaries is an idiosyncratic guy (to say the least) conducting experiments on 14,000 vials of urine on a sheep farm in remote Oregon. It's hard to explain, and even harder to fit into a cartoon, unfortunately. You'll just have to read about it.
This would all be purely amusing were it not a reminder of the growing power of the far-right fringe, especially in the era of Citizens United.
Of course, this cartoon is by no means a complete list of Cruz's shortcomings. The man is vile in too many ways to enumerate here.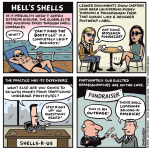 As we close in on Tax Day, a time when many of us will be writing sizable checks to the IRS (ahem), well-heeled people around the world are enjoying their wealth tax-free thanks to secret accounts. On rare occasion, one of these immense piggy banks briefly becomes visible thanks to a data dump such as the Panama Papers. It's worth noting that the US already has many agencies in lightly-regulated states that can help set up shell companies, thus likely explaining the relatively small number of Americans exposed in this case.
A couple things I've been up to lately: I edited this illustrated essay by Juana Medina about her Kafkaesque experience immigrating to the U.S. Moving here legally and permanently from another country isn't as easy as some people think.
I also had the pleasure of interviewing comedy writer Nell Scovell (credits: The Simpsons, The Muppets, Spy Magazine, among many others) for the Austin Chronicle's SXSW coverage. We had a nice chat about bullshit and women in comedy.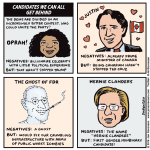 Just having some fun this week. If you do a Google image search for "Justin Trudeau boxing" you get some interesting results.