The
Sorensen

Monologues
---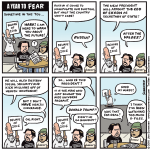 This strip revisits an earlier cartoon, in which a 1990s couple is warned about future developments. Alas, I don't have much confidence in the Russia revelations changing anything. If there's one thing people fear more than dooming the planet, it's rocking the boat.
---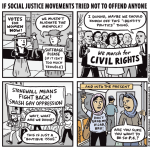 When you hear someone throwing around the suddenly-ubiquitous term "identity politics," it's useful to try substituting the words "civil rights" and "equality." Economic justice and social justice are part of the same package.
Do some people take their idealism too far? Of course. But the right has long employed a strategy of cherry-picking the most over-the-top examples of college student activism as supposedly representative of all historical struggles for marginalized groups. "Identity politics" can easily be used as a frame that trivializes bedrock progressive values — as though fighting, say, voter suppression is the frivolous agenda of a special interest group. It's important, as we face staggering abuses of power in the future, that we don't allow their rhetoric to divide us.
---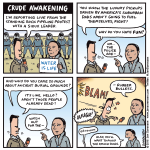 I may have taken artistic license by showing a mainstream-ish TV news reporter here, as it seems this very important story is being largely ignored. In case you haven't been following, a recent college grad had her arm mutilated by what many think was a concussion grenade; police sprayed people with hoses in the subfreezing night, risking deadly hypothermia; another woman had her retina severed. Journalists are facing arrest and rubber bullets. The camp is facing evacuation on December 5, a situation which threatens to become violent. It's imperative that Obama step in; this is not a time for overcautiousness. The stakes here are enormous. It's not only the Standing Rock Sioux who are imperiled; the world cannot afford this pipeline.
---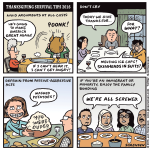 I appreciated the notes from people eager for an election rant. I've been busy lately and am still gathering my thoughts (I have a lot of them). At some point, I'm sure I'll write something. In the meantime, enjoy those mashed potatoes.
---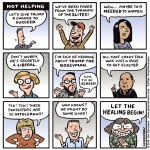 ---
---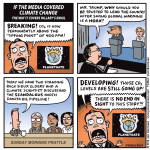 As many have noted, not one question about climate change was asked by the moderators of the recent presidential debates, despite our passing a major climate milestone in September.
A fairly astonishing study of network news broadcasts in 2016 showed no (!) climate change coverage — and relatively little policy coverage, for that matter — yet ample reporting on Hillary Clinton's email.
You know what's "extremely careless" (to borrow a phrase from James Comey)? Ignoring the most important issue in the world.
---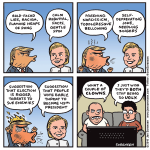 Ever since the first debate between Hillary and Trump, many have remarked on the "ugliness" of this election season. It sounds so nice and bipartisan to call them both clowns and loftily pronounce yourself to be above the fray, but this is flagrant false equivalence. You don't have to agree with Hillary on everything to see that, relative to Trump, she's been a model candidate.
It's worth noting that throughout history, people have said women can't be president because they are too emotional, but Hillary has admirably demonstrated how a female candidate can have much greater self-control than her male opponent.
---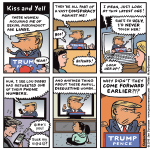 A few relevant articles in case you missed them: One of the women alleging sexual misconduct by Trump is now fleeing the country out of concerns for her safety. Lou Dobbs retweeted the home address and phone number of accuser Jessica Leeds, which was dug up by a conservative website.  Trump spokeswoman AJ Delgado said "any reasonable woman would have come forward" with the accusations earlier. Delgado also claimed to be offended by the allegations, invoking some bizarre feminist reasoning from another planet:
"As a woman, I'm livid having read this. Not only are these accusations simply not credible but it's disgusting that the New York Times is trivializing sexual assault this way. I take great offense at that, as a woman."
Trump himself called NY Times reporter Megan Twohey "a disgusting human being" for even reporting on the accusations. A Wall Street Journal reporter tweeted that a Trump crowd in NC chanted "Lock her up!" in reference to the accusers.
In light of all this, I recommend this Vox article: "Trump is giving us a master class in why #WomenDontReport"
---
---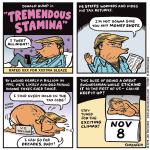 If this comic sinks a little low, blame it on Trump. Between his blatantly sexist remark that Hillary didn't look presidential because she lacked "stamina," and the fact that I, as a freelance cartoonist, probably pay way more in income taxes than he does, I wasn't in the mood to pull any punches.
---