The
Sorensen

Monologues

I want to let regular readers know that there will be some changes around here,  concerning both my website and my real life (I'm moving again). This means I'll probably post extra-minimally on the blog for a while. So gird your loins, or do whatever it is you need to do to Be Prepared.*

*Actually, there is nothing you need to do.
---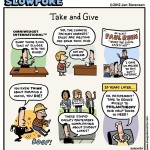 I recently finished Robert Frank's Richistan, which provided the inspiration for this one. If you aren't familiar with the book, it's about the hermetically-sealed reality inhabited by today's ultrarich. Trust me, it's even worse than you think. Frank is far too blithe about political corruption, but otherwise the book is a fascinating read. Some of the people described are real pieces of work.
I don't wish to impugn the many good philanthropists out there. I'm talking about the jerks who spend their lives making things difficult for ordinary people, the suddenly feel a pang of noblesse oblige to "do good." Like, maybe if Mr. Aristopants didn't fight environmental laws to reduce cancer-causing pollutants, his money wouldn't be needed so much by that children's cancer camp. It is, like so many things, a cycle of absurdity.
NEW: Follow Daily Kos Comics on Twitter at @DailyKosComics
---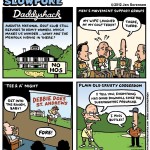 As upsetting as the "War on Women 2012" has been, I managed to keep my cool, I think, until last week or so. But at some point between the Masters Tournament at creepy Augusta National and the character assassination of Hilary Rosen (whose perfectly valid point was twisted wildly by everyone from the Romneys to the NYT's clueless Frank Bruni), things hit critical mass, and I truly began to question the wisdom of being born female.
IBM is one of the top sponsors of the Masters Tournament. Its CEO has historically been granted membership at Augusta National, which is denoted by a highly-coveted, silly green jacket that evokes shades of Rodney Dangerfield-meets-Richie Rich. Well, what to do when the CEO is a lady? Because that's what the current top dog at Big Blue, Virginia Rometty, happens to be. Apparently, if you're Augusta, you still deny her membership, so that she's forced to wear the crumpled pink jacket she brought balled-up in her roller luggage. (Just kidding; I'm sure her corporate jet has a very nice place to hang jackets!) Another day, another chick hits the Grass Ceiling.
I'm sure I'll get some emails saying, "They're a private club and they can do what they want!" While this may technically be true, it still doesn't mean they're not a bunch of retrograde douchesprockets.
---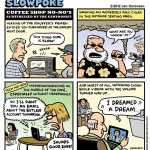 A non-political cartoon this week, as I've been busy traveling and trying not to think about politics. All of these offenses except the cigar-smoker were observed recently. Personally, I cannot imagine extending my personal Sphere of Entertainment (or Sphere of Commerce) to those sitting around me in a public space, but hey, that's just me. Skype makes loud cellphone talkers seem almost quaint, doesn't it?
Coffee shop proprietors: feel free to print this one out and hang it on the wall. Use the larger click-through version. I'll be grateful.
---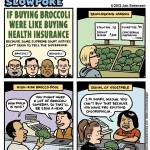 Congratulations, America! Decades upon decades of struggle for a more civilized health insurance system now rest in the hands of your smug, Newsmax-reading uncle. Or his highly-trained, yet no less ignorant equivalents.
A report from 2010 suggests that 275,000 will die due to lack of health insurance over the following decade. Harvard puts the number at 45,000 per year. That's far, far greater than the number who perished on September 11. And the judges who will be deciding the fate of those hundreds of thousands of lives — most of whom I suspect have never had to deal with the incredible cruelties faced by those whose jobs do not provide insurance — cannot distinguish a health insurance system from a cruciferous vegetable. I didn't have room to go into the more complex economic issues about risk-sharing which make broccoli an especially poor analogy, but hey, you can only do so much in a cartoon.
---