The
Sorensen

Monologues

HuffPost Politics filmed a great little video interview with Ann Telnaes, Signe Wilkinson, and me at the DNC. You can check it out here.
---
I've got a post up on Fusion collecting my sketches of scenes from the Democratic National Convention.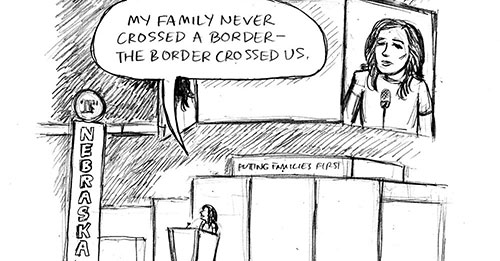 Also be sure to check out this great collection of women cartoonists offering advice to Hillary Clinton, which I had the pleasure of editing.
---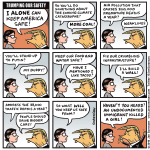 I'm in Philly for the DNC, so I'll have to keep this brief. I'm feeling increasingly frustrated by the skewed sense of perspective many Americans seem to have about the dangers we face. Not that recent violence around the world isn't cause for concern, of course. But Trump's immigrant-bashing was vile, racist, and truly dangerous.
---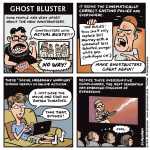 The backlash goes all the way to the top: even Donald Trump has weighed in with exactly the sentiments you would imagine. Like the director and cast members, I can't believe we're even still having this "conversation."
I haven't seen the movie yet, but I hear it's pretty good.
---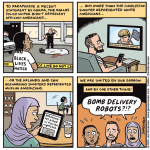 The actual Obama quote, which can be found deep in this article, was:
"The demented individual who carried out those attacks in Dallas, he's no more representative of African Americans than the shooter in Charleston was representative of white Americans, or the shooter in Orlando, or San Bernardino, were representative of Muslim Americans. They don't speak for us. That's not who we are."
It is truly remarkable, and frustrating, how many people do not understand this basic point. Black Lives Matter has never called for violence as a solution to violence. They are whistleblowers who would not exist if there were not a problem, and thanks to them, millions of Americans have been made aware of that problem. It is reprehensible to suggest, as some have, that they are responsible for the actions of a deranged man armed with a weapon he never should have been able to obtain in the first place.
---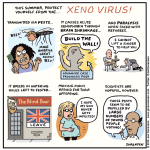 I realize that technically this should be the Xenophobia virus, but had to shorten it to Xeno for the joke to work. After writing this strip, I googled "Xeno virus" and found that it is a song by the California death metal band Deeds of Flesh. So, apologies to them.
---