I haven't been able to write much here lately because I've been busy moving into a new home, which has yet to be equipped with wifi. To give you some idea of what my life has been like, I had to send out this week's cartoon from the parking lot of a local coffee shop at 1:45am last night. (I'm currently sitting inside said coffee shop as a paying customer.) Oh, how I miss the days when people were lazy and/or clueless about password-protecting their wireless networks.
In other news, I'll be doing an event in Pittsburgh next Sunday, May 26, as part of the Pittsburgh Comic Arts Festival. I am humbled to be appearing on a panel with several legendary comic strip artists: Lynn Johnston, Cathy Guisewite, Terri Libenson, and Hilary Price. Details here.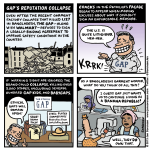 The Independent UK has a good rundown of the Gap controversy. The Savar factory collapse did not involve The Gap, but the company has been outspoken about its opposition to any legally-binding plan to improve conditions for workers in Bangladesh.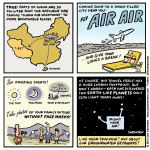 Reference material for this cartoon: this piece about children growing up in the toxic clouds of Beijing. If ever there was a warning sign for humanity to change its ways, this would be it.
"Comic Strip of the Day" blogger Mike Peterson has written an eloquent post about this cartoon and the well-worn path of industrialists escaping the fallout from industrialization. I'm on the road right now, so I'll pass the mic to Mike for further thoughts on the issue.