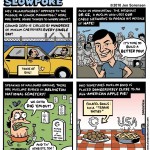 Until now, I resisted doing a cartoon on the mosque controversy because, like many aspects of American politics these days, it seemed too stupid to address. But as the debate built to a crescendo last week, even I found myself getting annoyed at slogans like "STOP THE GROUND ZERO MEGA-MOSQUE." You do realize the protesters are calling it a "mega-mosque," don't you? And a "9/11 victory mosque?" Do a Google image search for "Ground Zero 2010" and you'll find all sorts of colorful signage. The problem, of course, is that these people are inventing their own reality. Does this sound like a 9/11 victory monument?:
The facility's design includes a 500-seat auditorium, theater, performing arts center, fitness center, swimming pool, basketball court, childcare area, bookstore, culinary school, art studio, food court, September 11th memorial, and prayer space that could accommodate 1,000–2,000 people…

The project's organizers state that it is intended to be "a platform for multi-faith dialogue. It will strive to promote inter-community peace, tolerance and understanding locally in New York City, nationally in America, and globally," and have stated that it is modeled on the noted Manhattan Jewish community and cultural center, the 92nd Street Y. The project's sponsors explained that the original name of the center was meant to invoke 8th–11th century Córdoba, which they call a model of peaceful coexistence between Muslims, Christians, and Jews.
Sounds like something we could use, actually. Emphasis above is mine.
Since some people have asked about the Dr. Oz panel in the cartoon, I will add here that yes, Dr. Oz is a practicing Muslim; he discusses his faith in this interview on The Root.
Speaking of where I'm appearing in print these days, there's a Slowpoke cartoon in this week's Stranger (Seattle), and I hear Slowpoke is running in the Village Voice again. If you live in either of those cities, pick up a paper and support good ol' fashioned print journalism.
I have an essay in the current issue of Whitefish Review, a cool literary journal out of Montana that focuses on life in the Rockies.
I should let you know that my colleagues Ted Rall, Matt Bors, and Steven Cloud are currently traveling across Afghanistan on a fact-finding mission. They've got an expensive satellite phone and are posting all sorts of fascinating reportage, including sketches and photos. I find the easiest way to follow everything is to tune into the Cartoonists With Attitude blog, which aggregates the feeds from Matt and Ted. You won't want to miss the photos of them in Afghan garb!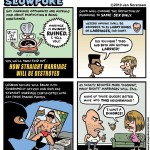 I realize that making fun of bigots' paradoxical "protect marriage" rhetoric is practically a cliché at this point, but if they keep saying it, I suppose we need to keep mocking it. In this case, I was set off by a quote in the NYT from an anti-gay marriage attorney who, in response to the judge's ruling, said "the right of Americans to protect marriage in their state constitutions will ultimately be upheld." Things don't get much more ass-backwards than that.
I really do seem cursed when it comes to internet access. Having some problems getting broadband in the middle of Seattle, one of the tech capitals of the world. So this space will continue to be quiet for a little while.
If there was ever any indication that the Republican party does not represent a  political philosophy, but sheer self-interest of the moneyed class, it is their insistence on keeping the Bush tax cuts at the same time that they howl about deficits. They tried to shut down unemployment benefits for desperate workers, and filibustered a bill to help small businesses. They speak plaintively about "burdening our children." But hey, if you're still makin' mad Benjamins, nothing compares 2 U. Have some more!
The art in the second panel was inspired by an illustration I did many years ago. You can see the original here.