The
Sorensen

Monologues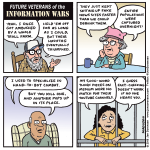 While there's been chatter in the news about conspiracy theories and Russian trolls, I think Americans are underestimating the problem of unreality and the dangers this poses to democracy. I'm reminded lately of this chilling article I read in the Seattle Times last fall, about a University of Washington researcher who studies information flows after mass shootings and other massacres (the infographic shown in the photo is enough to give you the willies). To quote the professor, Kate Starbird:
Starbird says she's concluded, provocatively, that we may be headed toward "the menace of unreality — which is that nobody believes anything anymore." Alex Jones, she says, is "a kind of prophet. There really is an information war for your mind. And we're losing it."

…

Starbird sighed. "I used to be a techno-utopian. Now I can't believe that I'm sitting here talking to you about all this."
Sure enough, a video making the claim that the Parkland students were "crisis actors" was the #1 trending post on Youtube shortly after the shooting. But the problem is hardly limited to Alex Jones' legions of followers (and there truly are legions of them). Republicans in Maine and California have been setting up their own propaganda sites masquerading as news.
---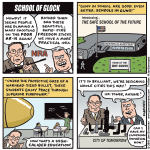 As I was telling a colleague of mine, responding to mass shootings as a cartoonist has become a macabre sort of exercise in drawing the same thing over and over, but in a new way. It's like a darker version of what non-political cartoonists face when asked to come up with yet another desert island gag.
---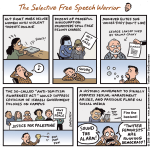 A backlash against the #MeToo movement rages, with conservatives spluttering about the awful feminists posing an existential threat to liberal democratic order, or some such thing.  Look, I am not a fan of Twitter's mob mentality even when I agree with the mob. But that's the nature of the medium, a problem not isolated to just anti-sexual harassment activists.
This backlash is a massively disproportionate response, indicative of a highly distorted media universe where pundits are rewarded for saying that the nation's biggest problems originate with liberals — remember the obsession with "PC on campus" during the election? As I have noted elsewhere, the speech concept has been utterly perverted to suit right wing efforts to chill speech.
A few relevant links:
The linguist and progressive activist George Lakoff, author of "Don't Think of an Elephant", is being sued for defamation by a wealthy Georgian-American businessman who was present at the infamous Trump Tower meeting with a Russian lawyer. Lakoff cited the businessman's alleged involvement in money-laundering in a TV interview. The businessman's legal team includes a lawyer who represented Trump in a previous lawsuit. I find this incredibly chilling, and deserving of much, much wider coverage than it's getting. Lakoff has a GoFundMe set up for his legal expenses.
Also deserving major headlines is the plight of the "J20" inauguration protesters still facing felony rioting charges. Many had their charges dropped, but 59 people still face the possibility of years in prison for merely being present when a few people engaged in vandalism. This is huge news with major implications for the right to protest.
Then there's the "Anti-Semitism Awareness Act." In this day and age of neo-Nazis, it sounds fine, right? But in practice, it conflates legitimate criticism of the Israeli government with bigotry. Many liberal Jewish groups are opposed to it for this reason. Of course, the Trump administration is appointing a fervent supporter of the act to be Assistant Secretary for Civil Rights at the Department of Education.
---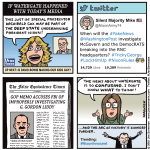 I was busy gestating during the Watergate crisis, and not paying much attention to the news, but hopefully this re-creation will resonate with people who lived through it. This comic was of course inspired by the Nunes memo, about which an objective headline might look something like: "Republicans release piece of garbage intended to mislead public about the Russia investigation."
An amazing and highly-relevant detail that should be household knowledge but that I learned only this week: the origins of Fox News can be traced back to the Nixon White House. The Nixon administration wanted more favorable coverage in the media and hatched the idea of creating a pro-GOP news network. Roger Ailes offered to do it, though it took some 25 years for the network to actually materialize. Via the late Gawker (which was sued out of business by billionaire Trump backer Peter Thiel):
But according to a remarkable document buried deep within the Richard Nixon Presidential Library, the intellectual forerunner for Fox News was a nakedly partisan 1970 plot by Ailes and other Nixon aides to circumvent the "prejudices of network news" and deliver "pro-administration" stories to heartland television viewers.

The memo—called, simply enough, "A Plan For Putting the GOP on TV News"— is included in a 318-page cache of documents detailing Ailes' work for both the Nixon and George H.W. Bush administrations that we obtained from the Nixon and Bush presidential libraries.
Flash forward to February 1, 2018. Fox's Geraldo Rivera tells Sean Hannity "Nixon never would have been forced to resign if you existed in your current state back in 1972, '73, '74." (Hat tip to Daily Kos commenter MiketheLiberal who alerted me to this development, which I'd missed).
Between the corrupt Fox and an intimidated/lobotomized mainstream media deathly afraid of showing "liberal bias," we have a crisis of journalistic ethics on our hands, one that deeply threatens American democracy and, ultimately, the freedom of the press itself.
(Full disclosure: I currently do editing work for the company that used to publish Gawker.)
---