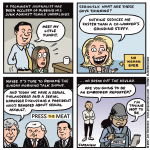 Just in case you missed the news about journalist Mark Halperin, this quote will fill you in:
"The first meeting I ever had with him was in his office and he just came up from behind — I was sitting in a chair from across his desk — and he came up behind me and [while he was clothed] he pressed his body on mine, his penis, on my shoulder," this woman told CNN. "I was obviously completely shocked. I can't even remember how I got out of there — [but] I got out of there and was freaked out by that whole experience. Given I was so young and new I wasn't sure if that was the sort of thing that was expected of you if you wanted something from a male figure in news."
According to the article, three women have come forward to say Halperin pressed erections against them, though he denies the claim.
As Rebecca Traister notes, men like Halperin, Weinstein, and O'Reilly have been influential in shaping our cultural and political narratives. This isn't just about what happens behind the scenes.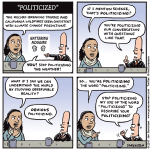 As I noted a few weeks ago, Fox Propaganda accused CNN of advancing a "leftist agenda" for bringing up a possible connection between climate change and the freakish storm that hit Texas. Around that time I was also gobsmacked by a quote from the CEO of the Weather Channel:
"I believe in climate change, and I believe it's man-made," said Dave Shull, the company's chief executive and a Republican, who spent much of Friday in the newsroom. "But I'm not a big fan of the term. It's been politicized."
Emphasis mine. The article explains how the Weather Channel is afraid of alienating its core audience by bringing up the subject. Hell, why bring up the weather at all, if you're going to be that squeamish about science?
Republicans use the same tactic for shutting down discussion about gun control after mass shootings, claiming that would be "politicizing" a tragedy. Crying politicization in these contexts is not a valid argument; it's simply a ploy to silence ideas that conflict with their agenda, and news outlets shouldn't kowtow to it.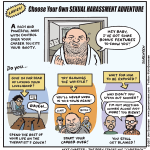 Women are damned in workplace harassment situations no matter what they do. Of course, rape and sexual assault victims (as many of Harvey Weinstein's accusers claim to be) don't have a choice.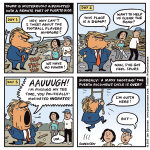 I have to say, drawing a cartoon about a dangerously incompetent president's imbecilic comments about the destruction of Puerto Rico while watching one of the worst mass shootings in American history unfold, is not exactly fun.