The
Sorensen

Monologues

As you may have noticed, some parts of this site are still incomplete. For example, if you click on the "Order a print" button, it takes you a Store page filled with Latin gobbledygook. And the Illustration portfolio has just a few images in it, due to some technical difficulties with the plugin. I can assure you, this will all get fixed soon — I wanted to make the switch to the new site now, since my old site's hosting plan will be expiring soon.

I'm especially stoked about the new site's highly-searchable, visual archives — click on a subject in the tag cloud, and you'll get thumbnails of all the comics on that topic. And cartoons are now connected to their respective blog posts, instead of being on separate pages. I look forward to doing more blogging now that everything is so up-front and easy to find. So yeah, stay tuned!
---
I've been nominated for an NCS Award this year in the Editorial Cartooning division. Woohoo! I face tough competition from my colleagues Clay Bennett and Michael de Adder. A full list of division awards nominees is available on the NCS site.
---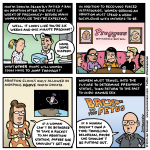 The fetal heartbeat bill passed in North Dakota might not survive a legal challenge, but other radical laws may have the effect of shutting down the state's lone abortion clinic. So, poor desperate women of North Dakota: you may as well just give up and kick back at Preggers, where every night is Ladies Night.
---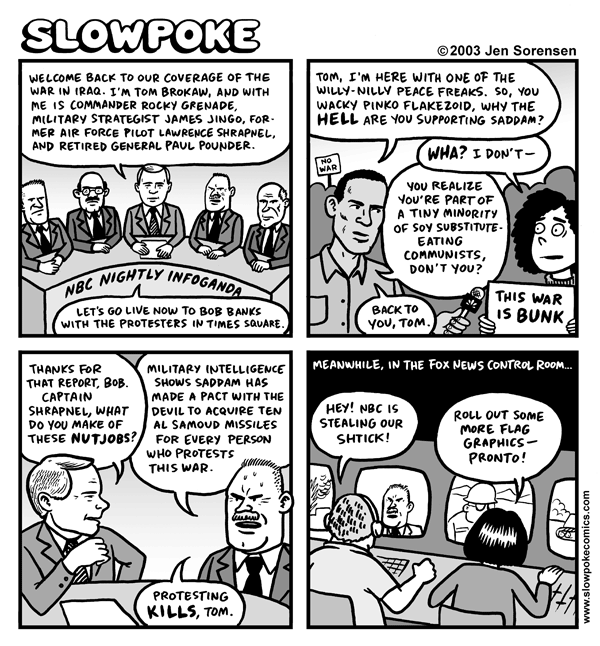 Amazing to me that it's been ten years since I drew this. Seems like only yesterday that I was huddled in my room in a group house, feeling sickened as I watched the first bombs drop on Iraq. We didn't have cable, so I watched lots of NBC, and let me tell you, it was bad.
---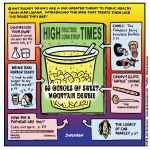 This cartoon has generated predictable comments about being about a "silly" subject. I get it; a lot of people, including many progressives, are opposed to NYC's proposed measures to cap soda sizes at 16 oz. Never mind that the chief scientist for the American Diabetes Association predicts that up to one in three American adults will have diabetes by the year 2050. And silly me, paying attention to conclusive studies proving that excessive sugar (with sodas being the primary culprit) is killing people.
"Educate consumers, don't engage in Prohibition!" some readers have commented. Well, education efforts in situations like this don't work, especially when competing with billions of dollars in marketing from multinationals. Also, the sugary drink restrictions aren't prohibition — they're regulation. You're still free to swig as many 16-oz. Cokes as you like.
This isn't about "controlling" or "feeling superior to" other people. This is about challenging shifting cultural norms that are being driven by super-sized industry profits. But hey, keep drinking that corporate Kool-Aid! No one's stopping you.
---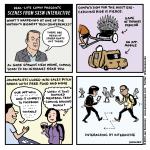 It's probably a good thing that SXSW ended, or I'd never be productive again.
A couple of these drawings were purloined from a series of illustrations I was doing for the Austin Chronicle. I maintained an informal "SX Sketchbook" for their blog. You can check out my coverage here (this page links to previous installments).
I was particularly enamored with the trade show booth of an established HR company called TriNet. Realizing, perhaps, that their business is on the dry side, they invented a fake company called YamTrader, and set up a giant yam with food inside (albeit no yam dishes, if memory serves.) They had a yam mascot and everything. Note to self: next trade show, we are building a larger-than-life beet to catch editors' attention.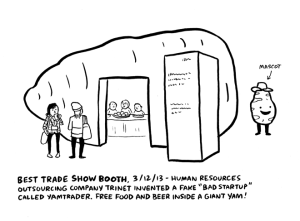 ---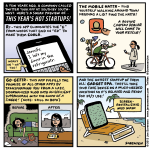 I'll be attending my first SXSW soon, with the Interactive portion providing the impetus for this strip. As a member of the press, I'm getting some pretty entertaining emails about startup launches and other tech company promotions.
While I was working on this, I came across this interesting NYTimes article about the folly of thinking apps will solve all our problems; hence the third panel of this strip. Some apps are useful, but I'm still waiting for the one that will turn me into a super-organized person.
---