The
Sorensen

Monologues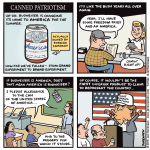 Budweiser has been roundly mocked for this marketing campaign, thus demonstrating that it is possible to lay it on too thick. I keep having flashbacks to the jingoistic days of 2003, when cars were plastered with magnetic flags and "Support our troops" ribbons. (Where'd all that stuff go, anyway?)
---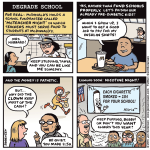 Mother Jones has further details: schools get around 15% of profits during the McTeacher's Night event, which means that, for example, an Ohio school got $191. The proceeds amount to $1-2 per student (after their families spend considerably more than that on McDonald's food — not the most efficient way to raise funds from this tightwad's perspective).
Various groups including Campaign for a Commercial-Free Childhood have campaigns against the program. While purporting to be some kind of altruistic community event, McTeacher Night amounts to cheap advertising: it's really about inculcating brand loyalty and trust, turning teachers — TEACHERS! — into "brand ambassadors." At the very moment that we need to change our kids' eating habits more than ever, we're normalizing industrialized fast food, through our nation's educators, as something actual human beings should be eating.
My parents were both teachers, and I cannot imagine either of them having to do this. In fact, I don't recall encountering any such advertising at all when I was a public school student. I'd probably be shocked if I went into a classroom now.
---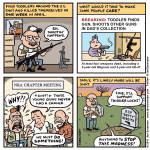 Relevant and depressing article about the four toddlers here.
As guns gradually infiltrate every nook and cranny in America, it's statistically inevitable that some guns will become victims of accidental gunfire. Heck, some have probably already been shot. We need to stop this problem now, before any more innocent weapons get hurt!
---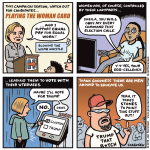 My husband actually spotted a bumper sticker saying "Trump that bitch" the other day.  Nice to see people keepin' it classy.
As you've undoubtedly heard by now, Trump accused Hillary of playing the "woman card." (He also suggested she lacked stamina, an odd — if phallically-loaded — criticism to level at someone who's been campaigning tirelessly for eleven months.) Look, this is not that hard to understand: a woman running for president, who advocates for women as part of her platform, is not playing a "card" that gives her some kind of unfair advantage over her oh-so-meritocratic male opponents. See Jill Filipovic's excellent NYT op-ed piece on how Donna Edwards was accused of playing the "race card" in her Senate campaign simply for talking about her life story, and how women and minority candidates are accused of playing a "card" simply by virtue of who they are.
---