The
Sorensen

Monologues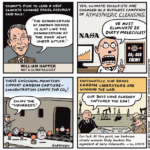 So Trump is starting up a Presidential Committee on Climate Security as a counterpoint to various agencies (including the Pentagon) that view climate change as a national security threat. Chairing this committee would be one William Happer, a physicist and climate skeptic who said on CNBC in 2014: "The demonization of carbon dioxide is just like the demonization of the poor Jews under Hitler. Carbon dioxide is actually a benefit to the world, and so were the Jews." Later, he said "Demonization of CO2 and people like me who come to its defense is nothing to be proud of. It really differs little from the Nazi persecution of the Jews, the Soviet extermination of class enemies or ISIL slaughter of infidels." Sometimes when the fruit is hanging this low, it's hard to resist drawing a cartoon about it.

After writing a bunch of gags around Happer's ridiculous analogy, it felt to me that the situation is far too dark to end the cartoon on a light, jokey note. Climate journalist David Wallace-Wells has been citing a study showing that we are at risk of 150 million premature deaths, or 25 Holocausts, from air pollution by the end of the century if we do not limit global warming to an extent that seems unlikely right now. Given Happer's comments, it felt fitting to end with this more sobering comparison.
---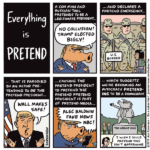 This cartoon was inspired by Trump's recent Twitter explosion over Alec Baldwin's impersonation of him on SNL. Among other things, Trump called for "retribution" and added "THE RIGGED AND CORRUPT MEDIA IS THE ENEMY OF THE PEOPLE!" Garry Kasparov noted that this was reminiscent of Putin's attack on the Russian satire show Kukly. Per Newsweek:
In Kukly's most infamous episode, broadcast in January 2000, Putin was depicted as an evil, infant gnome muttering the kind of earthy expressions that had built up his tough-guy persona. Putin was reportedly furious, and the removal of his puppet was one of the conditions required by Kremlin aides for the TV channel's survival. NTV refused to comply, and within months, the channel was under state control. Putin jokes quickly vanished from Russia's television screens.
While we aren't quite there yet, we seem to be on an authoritarian slide. 
In the SNL skit, Alec Baldwin (as Trump) refers to his "personal hell of playing president" and I thought I'd riff on that. I'm sure some will argue it's incorrect to call Trump a pretend president, but when you've lost the popular vote and are only in office because of foreign interference, and are probably compromised by said foreign nation, then I think it is fair to say this is an illegitimate president.
---
I'm in the process of updating the site, so if you see some broken bits here and there, that's why. Of course, when you become a subscriber, the cartoon and commentary are luxuriously delivered to your very own inbox, thus allowing you to avoid the website altogether! 
---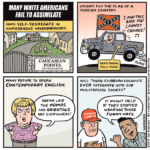 With all this talk of immigrants assimilating (or not assimilating) into "our culture," it's often implied that said culture is white and Christian. But if you consider that America is, in fact, a highly-diverse nation of immigrants — E pluribus unum, anyone? — the true outliers seem to be those who view the nation as a monolithic body resembling themselves. If anything, it is these folks who have not fully integrated, and who reject American values.
In the second panel, I originally drew "Sweet Home Alabama" blasting out of the pickup truck, but that particular lyric complicated the message I was trying to convey with the Confederate flag, since Alabama actually is a part of the United States thanks to the outcome of the Civil War. So I opted for some fitting lyrics from "Free Bird" instead.
---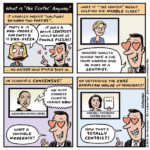 Plutocratic putz Howard Schultz is often referred to as a "centrist" who is outraged at the "leftward" shift of the Democratic party, with special animus towards those Democrats calling for higher taxes on the super-wealthy. I am troubled by the rightward shift of our conception of the political "center" — the product of the right growing ever more extreme while the Dems have, over the years, tended to compromise in the name of bipartisanship. Defining the center as the halfway point between two parties without regard to policy specifics is both meaningless and insane. Even calling Schultz "socially liberal and economically conservative" makes no sense. The two are interrelated, with the latter undermining the former.
I suspect many of my fellow lefties will recoil at the thought of being "centrist" in any way. But we need to buck the both-sidesism that creates false equivalence between progressive Democrats and the lunatics of the Trump administration.
---