Everything is Pretend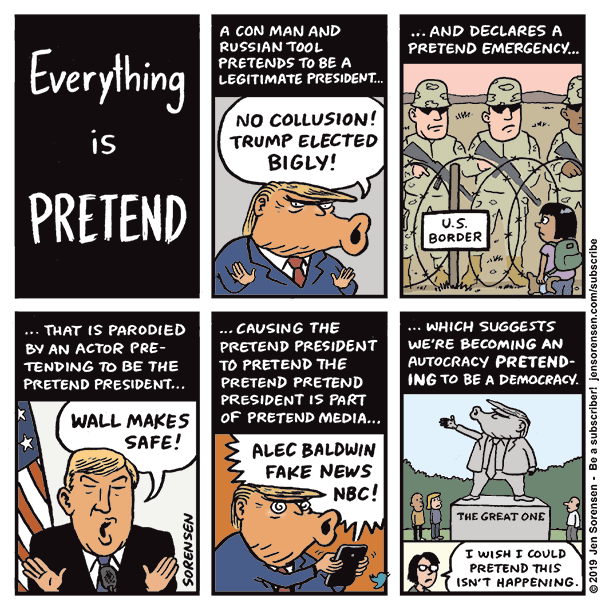 ---
This cartoon was inspired by Trump's recent Twitter explosion over Alec Baldwin's impersonation of him on SNL. Among other things, Trump called for "retribution" and added "THE RIGGED AND CORRUPT MEDIA IS THE ENEMY OF THE PEOPLE!" Garry Kasparov noted that this was reminiscent of Putin's attack on the Russian satire show Kukly. Per Newsweek:
In Kukly's most infamous episode, broadcast in January 2000, Putin was depicted as an evil, infant gnome muttering the kind of earthy expressions that had built up his tough-guy persona. Putin was reportedly furious, and the removal of his puppet was one of the conditions required by Kremlin aides for the TV channel's survival. NTV refused to comply, and within months, the channel was under state control. Putin jokes quickly vanished from Russia's television screens.
While we aren't quite there yet, we seem to be on an authoritarian slide. 
In the SNL skit, Alec Baldwin (as Trump) refers to his "personal hell of playing president" and I thought I'd riff on that. I'm sure some will argue it's incorrect to call Trump a pretend president, but when you've lost the popular vote and are only in office because of foreign interference, and are probably compromised by said foreign nation, then I think it is fair to say this is an illegitimate president.
---