The
Sorensen

Monologues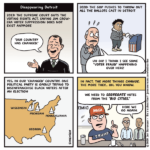 While I was doing an image search for lunch counter protests of the Civil Rights Era, I came across this remarkable photo on NPR.org of activist Dion Diamond being confronted by the leader of the American Nazi Party. The year was 1960. When you look at these photos from the not-so-distant past, invariably filled with sneering, cocky white boys tormenting Black people, you can also see the present. 

This got me thinking about contemporary notions of the "real American voter" — a white male Trump supporter in an Ohio diner. How is it that a mere handful of decades after these historic lunch counter protests, our go-to image of an "authentic American" is a white guy in a diner? 
---
---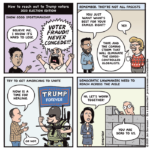 While Kamala Harris gave a great victory speech, I was not as impressed with Biden's, which seemed fairly boilerplate and full of bromides about working together with Republicans. While I understand the need to lower the nation's temperature, at a certain point you can't wish fascism away with fluffy talk. He's also setting himself up for disaster in the event that he ever needs to take bold measures to undo Trump's damage — assuming the GOP's attempted coup fails (and that's not hyperbole!). 
If you are able, please consider joining the Sorensen Subscription Service!
---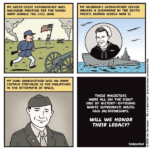 A serious comic for a serious day in American history. I have been thinking lately about all the sacrifices made by my grandparents and others to stop the Third Reich from taking over the world, and feeling disgusted that all that effort could be undone just one lifetime later. I am obviously not saying that the US was perfect (see George Takei's excellent graphic novel "They Called Us Enemy" about Japanese internment), or that racism didn't exist in the North during the Civil War, or that the US didn't do some questionable things in the Philippines, or that it has always stood up for democracy. Unfortunately, I can't address all of US history in a four-panel cartoon. I'm just saying it was a good thing that we stopped the Confederacy and the Holocaust, and that we are tragically faced with the same demons from those eras again.
---