The
Sorensen

Monologues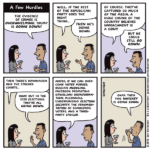 There's been a lot of cheering about Trump getting booed at the World Series (a good thing, to be sure), and how the administration's bizarre admissions of guilt are going to lead to the end of this demented clown show once and for all. It could be the case that justice is right around the corner, or at least the 2020 elections will turn things around. But I do think overconfidence can backfire — it did in 2016! — and that many people are underestimating the obstacles.
The Trump administration's behavior doesn't seem all that strange if you realize authoritarianism isn't something we risk facing in the future — it's already here. Opponents of democracy have captured large amounts of institutional power and reality itself. The fact that Facebook is bending the knee and promoting Breitbart as a legitimate news source should send chills down everyone's spine. And, right on cue, Georgia is purging another 330,000 voters, although Stacey Abrams is on the case. Some readers will undoubtedly see this cartoon as defeatist, but to achieve victory, we need an accurate view of what we're up against.
Help sustain these comics — join the Sorensen Subscription Service!
---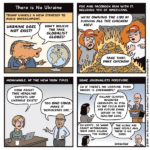 Help sustain these comics — join the Sorensen Subscription Service!
---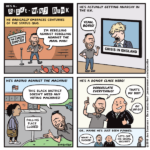 This was inspired partly by various accounts of conservatives describing themselves as the true punks of today, as well as the recent fiasco of SNL hiring and firing comedian Shane Gillis, who described his hackneyed racist and misogynist comedy as "pushing boundaries." Apparently the word "transgressive" now applies to the culture of a 1950s segregationist backwater. (For truly weird, envelope-pushing comedy, I'd recommend A Black Lady Sketch Show on HBO.) 
Help sustain these comics — join the Sorensen Subscription Service!
---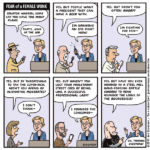 Let me say up front that I'd be fine with Warren or Sanders as the Democratic nominee, or even some of the other candidates who are polling behind them. As American democracy collapses, I'm not that into splitting hairs beyond wanting a leader who understands what's happening and is willing to make some bold moves to stop it. And while there's certainly nothing wrong with asking critical questions of presidential contenders, it does strike me as absurd how Warren is spun as some kind of scary "radical leftist" by mainstream wags, and "mainstream corporate lady" by some leftist wags. I don't have the energy to elaborate on all the things Warren has done for working people. Perhaps America is too anti-intellectual and sexist to vote for someone like her. But it depresses me to hear this stuff.
Help sustain these comics — join the Sorensen Subscription Service!
---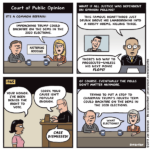 I get that many Americans still aren't fully on board with impeachment, although those numbers seem to be changing. But there comes a time when the illegality and corruption are so eye-poppingly egregious, to do nothing isn't really an option. At this point, the talking heads still fixated on the partisan horse race are focused on the wrong question. There will be no turning back if we don't at least try to stop this assault on what remains of our democracy.
Though I couldn't fit this into the cartoon, I realize that changes in law such as those during the Civil Rights Movement did in fact depend on changing public opinion. Simple enforcement of the law, though, is not in principle a matter of partisan politics.
---