I'm in the process of updating the site, so if you see some broken bits here and there, that's why. Of course, when you become a subscriber, the cartoon and commentary are luxuriously delivered to your very own inbox, thus allowing you to avoid the website altogether!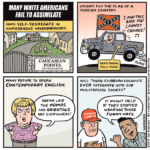 With all this talk of immigrants assimilating (or not assimilating) into "our culture," it's often implied that said culture is white and Christian. But if you consider that America is, in fact, a highly-diverse nation of immigrants — E pluribus unum, anyone? — the true outliers seem to be those who view the nation as a monolithic body resembling themselves. If anything, it is these folks who have not fully integrated, and who reject American values.
In the second panel, I originally drew "Sweet Home Alabama" blasting out of the pickup truck, but that particular lyric complicated the message I was trying to convey with the Confederate flag, since Alabama actually is a part of the United States thanks to the outcome of the Civil War. So I opted for some fitting lyrics from "Free Bird" instead.