Cruzin' under the radar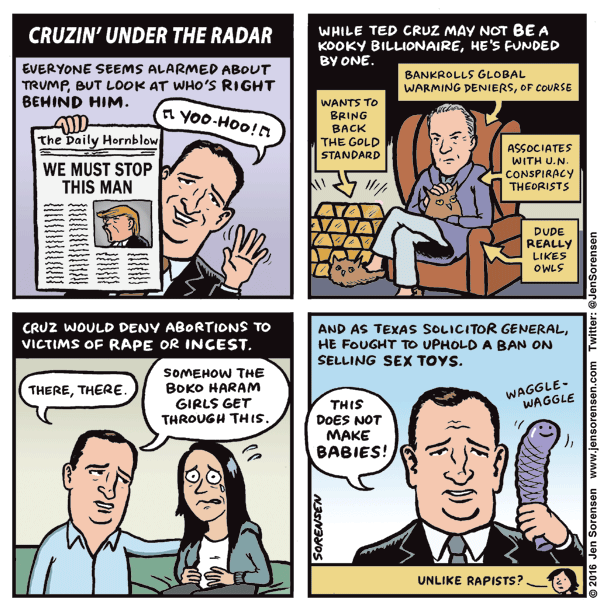 ---
This Bloomberg profile of Ted Cruz's biggest backer, hedge fund billionaire Robert Mercer, is so chock full of delicious details, I implore you to read the whole thing. For example, more on those owls:
Mercer has dubbed his house the Owl's Nest. Owls seem to be something of a familiar for Mercer. He's commissioned a succession of yachts, all called Sea Owl, the latest of which stretches to 203 feet, with a pirate-themed playroom for the grandkids and a chandelier of Venetian glass. At least one Sea Owl was fitted with a medical center and video links, so a stroke at sea, for instance, could be diagnosed and treated remotely by a former White House physician ashore…

At the Owl's Nest, visitors pass through pillars crowned by a pair of owl statues, their wings outstretched as if taking flight. People who've been inside describe a pistol range, a series of secret passages, and an octagonal tower holding a two-story library.
Among Mercer's other financial beneficiaries is an idiosyncratic guy (to say the least) conducting experiments on 14,000 vials of urine on a sheep farm in remote Oregon. It's hard to explain, and even harder to fit into a cartoon, unfortunately. You'll just have to read about it.
This would all be purely amusing were it not a reminder of the growing power of the far-right fringe, especially in the era of Citizens United.
Of course, this cartoon is by no means a complete list of Cruz's shortcomings. The man is vile in too many ways to enumerate here.
---