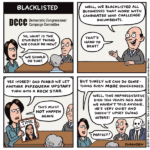 In case you haven't heard, the DCCC – the arm of the Democratic Party that works to elect members of the House – recently introduced a policy restricting its vendors from working with any candidate challenging a Democratic incumbent. In other words, no existing officeholder can be primaried (and if they are, the consultants who help them can't work for the DCCC). While I understand the logic of supporting incumbents and don't really have a problem with the party favoring them in most cases, this policy is both draconian and divisive. To quote Rep. Ayanna Pressley, "If the DCCC enacts this policy to blacklist vendors who work with challengers, we risk undermining an entire universe of potential candidates and vendors – especially women and people of color – whose ideas, energy, and innovation need a place in our party."
The last thing the Dems need as we head into 2020 is to alienate the progressive base even further. The party is already so fragmented, I worry about how we're going to get through the next presidential election in one piece. For more, here's the site of the campaign against the blacklist.
Help sustain these comics — join the Sorensen Subscription Service!