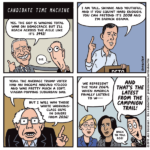 I'd vote for any of these candidates against Trump, of course. I do think people are overestimating Biden's electability — there's an enthusiasm gap there that poses a risk, and he's said some awfully stupid stuff. You can't say Trump is an aberration and unrepresentative of the GOP in 2019 after voter purges, Merrick Garland, acceptance of Russian interference in our elections, and countless other gross violations of democratic norms. And no, Dick Cheney is not a "decent man."
I don't object to trying to win over white working class guys in diners — indeed, I support the 50-state strategy espoused by Howard Dean some years ago. I do think they've been somewhat mythologized at the expense of other working class voters. I couldn't help but notice who was prominently featured in this emotionally-powerful Sanders ad about the Lordstown, Ohio GM plant closure, compared to the considerably more diverse set of Lordstown workers who appeared in this NY Times article (scroll down through all the photos).
The role of Trump's affluent and middle-class supporters has also been rendered invisible. The $70,000 figure came from this oft-quoted Nate Silver post; while rural voters do tend to support Trump, we often forget it was suburban whites who really put him over the top. Only a third of Trump supporters had incomes under $50,000; another third earned $50,000-$100,000 and the remaining third made over $100,000. How often do we hear about Trump's huge base of six-figure earners? Other studies suggest that better indicators of Trump support are education levels and fragile masculinity.
Help sustain these comics — join the Sorensen Subscription Service!