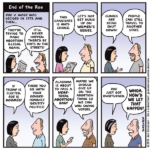 Several states are now passing radical anti-abortion laws, with the express goal of taking the fight all the way to a sympathetically pre-modern Supreme Court. Alabama is on the verge of enacting a near-total ban with no exceptions for rape and incest. Yesterday, SCOTUS issued an ominous ruling against stare decisis that many legal experts are saying lays the groundwork for overturning Roe.
How did we get here? Partly, I would argue, from reproductive justice being continually marginalized as "not hard news" — unlike, say, tariffs! (Incidentally, I've seen a couple terrible political cartoons now depicting trade war with China as an earth-scorching Game of Thrones dragon. I don't care how much fun it is to draw dragons, I promise I will never do that to you.) Also, some of us were VERY, VERY WORRIED about the Supreme Court in 2016, predicting that this was going to happen, and it felt like those warnings were met with a collective shrug. I think many people still underestimate the dark times ahead. Seriously, working on this cartoon gave me the creeps.
Help sustain these comics — join the Sorensen Subscription Service!