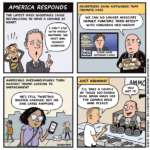 I half-wrote this one last week, but thought I'd wait to make sure nobody in a position of power responded in a meaningful way to the recent shootings. Yes, a few Republicans have mumbled things about red flag laws, much to the consternation of other Republicans. But I think we can safely assume nothing much will change.
To be fair, some advertisers have apparently disappeared from Tucker Carlson's show in the wake of his outrageous claim that white supremacy is a "hoax" perpetrated by Democrats, though as of this August 8 report from Daily Beast, neither Fox nor its sponsors were commenting on Carlson's statements. Look, this isn't complicated. No responsible company should be supporting the vile hate-for-profit racket that is Fox. The entire network should be radioactive, not just Tucker Carlson. The same goes for Breitbart and other white nationalist media outlets. Somehow these scandalous remarks — that once upon a time may have been career-ending — just fade into the ether, and then it's back to business as usual. Nothing is going to change until hate media is thoroughly delegitimized.
 
Help sustain these comics — join the Sorensen Subscription Service!