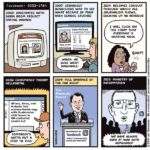 Facebook recently sponsored a Federalist Society event at which Brett Kavanaugh was the keynote speaker, despite objections from its own employees and public protests. The speech was understood by many to be an attempt to rehabilitate Kavanaugh's image in the wake of credible sexual assault allegations. This comes on the heels of Facebook saying it would not vet political ads for accuracy and making white nationalist propaganda outlet Breitbart a "trusted" news source. Indeed, Facebook clearly seems to have chosen to cozy up to the authoritarian right rather than use its influence to defend democratic norms (or sexual assault survivors, for that matter).
Steve Jobs and internet developers of the early computing era came out of a sixties counterculture that saw decentralized communication and individual expression as a bulwark against totalitarianism. There is perhaps no clearer example of this than the famous MacIntosh "1984" ad that appeared during the Super Bowl. In the commercial, Big Brother gets smashed by the power of personal computing. In real life, we can see how Jobs' utopian vision ultimately failed (with some exceptions in the area of social media activism). Increasingly, as massive technology companies like Facebook partner with the present-day, Russia-corrupted, disinformation-sowing GOP, they've become the very Orwellian entities that the Cold War-era developers thought they were rebelling against.
Help sustain these comics — join the Sorensen Subscription Service!