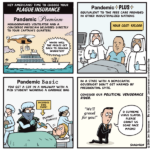 The virus is, of course, infecting rich and poor alike. And it's just a fantasy that you can buy private insurance against a pandemic. But America's class divide is still manifesting itself in predictable ways. There is, according to this NYT article, a healthcare concierge service for the very rich and sick that costs $80,000 every six months.
The firm has helped clients arrange tests in Los Angeles for the coronavirus and obtained oxygen concentrators for high-risk patients.

"We know the top lab people and the doctors and nurses and can make the process efficient," said Leslie Michelson, the firm's executive chairman.
The fourth panel touches on the insane Trump tweets and pressers, where he has implied he's withholding medical supplies from states with governors he feels are not sufficiently deferent.
If (and only if) you are able, please consider joining the Sorensen Subscription Service!