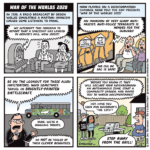 Right-wing disinformation outlets have been whipping up hysteria with false rumors about antifa and the Black Lives Matter movement planning to cause mayhem the suburbs. We've already seen at least two cases now of people driving converted school buses (known as "skoolies") being targeted for harassment. A multiracial family on a camping trip to the Olympic Peninsula had locals try to trap them in the forest. The Columbus, OH police department issued a wildly misleading social media post about a hippie bus owned by street performers, which got picked up by the likes of Marco Rubio. Per TPM: "According to the juggler squad they've been repeatedly harassed since the social media posts went viral as terrorized Fox News watchers spot the bus and mobilize their defense."
Trump and his media boosters have been screeching about the "autonomous zone" in Seattle's Capitol Hill neighborhood (where I briefly lived once), which has been a peaceful space of mural painting and festive consciousness-raising. Fox actually published digitally-altered and misleading photos about the demonstration to make it seem violent and chaotic.
Help sustain these comics — join the Sorensen Subscription Service!