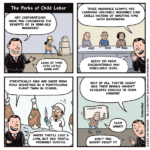 According to this well-reported piece in the Washington Post, a right-wing think tank based in Florida called the Foundation for Government Accountability has been pushing to dismantle regulations that protect kids from working long hours and dangerous jobs. The FGA is funded by some of the biggest Republican donors. 
Via Daily Kos, the bill that just passed the Iowa Senate is nothing short of appalling:  
The new would-be law "allows 14-year-olds to work six-hour night shifts, allows 15-year-olds to work in plants on assembly lines moving items up to 50 pounds, and allows 16 and 17-year-olds to serve alcohol," reported Iowa's Who13 …
Help keep this work sustainable by joining the Sorensen Subscription Service! Also on Patreon.