Here's a photo of me giving my presentation at Ohio State, taken by "Six Chix" and "Tina's Groove" cartoonist Rina Piccolo: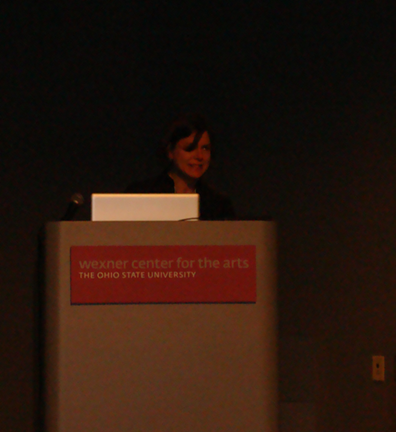 I like how she captured me in mid-demonic gaze.  The talk went remarkably well, even better than my wildest expectations. The crowd was great, full of cartoonists and lovers of The Noble Art (that's what I call it, anyway). Honestly, this was the best cartooning event I have ever been to. We cartoonists tend to settle into little communities, usually with other cartoonists in our same genre. Which is enjoyable, of course, but I liked the way this festival brought so many different groups together. I met a bunch of daily strip cartoonists for the first time. Went to dinner with Lynn Johnston of "For Better or For Worse" one night. On another occasion, I had Guinnesses bought for me by Jeff Keane of "The Family Circus." I never imagined as a child that someday "Jeffy" would be buying me beer. I saw several old friends and made a lot of new ones (I can't name them all, but Hilary Price of "Rhymes With Orange" is awfully cool), and nearly lost my voice from talking so much. Hey, we're cartoonists — we're used to sitting alone all day.
I was pretty lazy about taking pictures, but here's a not-too-shabby shot of the Jay Kennedy tribute panel:
Many thanks to the Festival organizers for putting on such an amazing and well-run event.
This past weekend was the 2010 Festival of Cartoon Art, held every three years at Ohio State University. I was invited to be a speaker this year, which was an incredible honor; hopefully I'll have time to blog about it soon. My strip was due mere hours after landing back in Seattle, and I hammered this out in a state of utter exhaustion. But I like how it came out. It was probably more than a little inspired by the "Life in Hell" cartoons Matt Groening was reading at his talk the night before, in which he simply illustrates crazy stuff his kids said. At OSU, I engaged in a year's worth of wacky conversation over a four-day period. These snippets are just the ones that came to mind first. Pictured in the cartoon are: Rina Piccolo, Dan Piraro, Sean Parkes, and… well, maybe I'll hold off in revealing the last cartoonist, lest he not want that to be Google-able forever.